Being young isn't an excuse, it's an opportunity
Details

Category: News
Published: Thursday, 01 April 2021 07:39
Written by Bill Jaynes
Hits: 409
By: Myron Yoma
MRCS youth Volunteer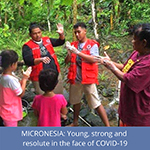 As a young person, I have experienced first-hand how some people can underestimate youth, and fail to recognize the innovative thinking, energy and problem-solving that younger people can bring to the table.
The world today is facing a new pandemic, that has infected over 15 million people and claimed thousands of lives. All over of the world, including the FSM, governments and aid agencies are building awareness about the COVID-19 virus.
The Micronesian Red Cross Society plays a vital role in preparing and supporting the community through awareness raising. We do this through house to house outreach, using mostly youth volunteers from different parts of the island of Pohnpei.
I was part of that youth volunteer group, working alongside my fellow volunteers and Red Cross staff to visit communities by going door to door and talking to those at their homes. As a volunteer having the responsibility to educate and inform the community about the pandemic was challenging, yet exciting, and most importantly, inspiring. The main goal of the outreach was to cover every single household on the island, including the outer islands.
With over a thousand households on the main island, the task was already a significant challenge. The outreach began in late March 2020 in the municipality of Nett. There were only 15 youth volunteers and staff and we had a plan to visit more than a hundred households in less than a week. At the time, the weather was extremely changeable, and we would go from being soaked under the pouring rain and later drying under the hot sun.
Most people we encountered were happy to listen and it was wonderful when people praised our efforts. Unfortunately, some ridiculed us and implied that we are wasting their time, and it's never nice or easy when people would throw us off their property, and a few of the youth volunteers were even sworn at.
My experience during the outreach was challenging and exciting and I would consider this experience as one of the best in my life. I got to visit places I had never been to, and had the opportunity to meet new people and learn new things. I even developed a few leadership skills by leading my own outreach team.
We started with 15-20 volunteers as we began our community outreach but by early August, we had over 60 youth volunteers. I believe our work inspired many to take action and contribute to this effort. With all the challenges, excitement, and inspirations, during those few months, I created new bonds and connections with people and together we connected with the community – house by house. I strongly believe that we made a great impact on COVID-19 awareness.
For me, this experience has taught me that I can live up to my moto, the Xavier mission statement, that encourages us to become leaders and to be a man or woman for others. This means being a person who is selfless, caring, and that has initiative; a person that sacrifices their free time to serve others who are in need.
To me, that is what being a Micronesian Red Cross Society youth member is all about and I can't wait to continue supporting.