Police, Fire and Emergency Services and PUC crews respond to Paideng Building Fire
Details

Category: News
Published: Monday, 30 November -0001 00:00
Written by Bill Jaynes
Hits: 565
Pohnpei Enginkehlap
October 10, 2020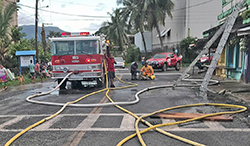 Pohnpei—On Saturday, October 10, 2020, the Department of Public Safety's 911 dispatch received a call at approximately 4:58 pm reporting a fire located at the Paideng Building across from the former public market area of Kolonia Town. State and Kolonia Town Police responded to the 911 call immediately.
Upon their arrival, Pohnpei Utilities Corporation (PUC) crews were already on scene, securing electricity to the location. Pohnpei Fire and Emergency Services personnel arrived approximately 10 minutes after the 911 call was made and contained the fire at approximately 5:42 pm. Firefighters remained on the scene until approximately 7:00 pm to make sure the fire was completely extinguished.
It is fortunate that no one was hurt and the call to 911 was made quickly. At the moment, Police are investigating the incident and the cause of the fire is not known at this time.
Director of the Department of Public Safety, Mr. Patrick Carl, advises the public to call 911 immediately when a fire is noticed and not to fight or extinguish it themselves. Keep lighters and matches away from children at all times and do not leave cooking unattended. For home electrical repairs, always call certified electricians. For business owners, ensure fire extinguishers are on the premises at all times and employees are trained in their use.
Thank you to the Men and Women of the Pohnpei State Department of Public Safety, Kolonia Town Police, and Pohnpei Utilities Corporation for their service. For more information on this press release, please contact the Public Information at 320- 2235 or email: This email address is being protected from spambots. You need JavaScript enabled to view it..