FSM First lady speaks at the 8th International Day of the Girl Child and Superhero Funwalk
Details

Category: News
Published: Monday, 30 November -0001 00:00
Written by Bill Jaynes
Hits: 396
FSM Information Services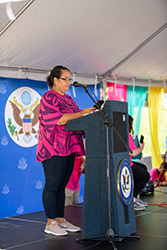 PALIKIR, Pohnpei—On October 10th, 2020, the Honorable Patricia E. Edwin, First Lady of the Federated States of Micronesia (FSM), joined the 8th International Day of the Girl Child and Superhero Funwalk with His Excellency David W. Panuelo. Sponsored by the Embassy of the United States of America, with partners such as the United Nations' Children's Fund (UNICEF), First Lady Edwin congratulated girls for the unique, important, and essential role they play in our Nation's development, solicited the support of the U.S. Embassy, UNICEF, and the National and State Departments of Education in expanding the Girl Scouts program across the FSM, and advocated for girls, including girls with special needs, to both be better served by opportunities provided to them and to actively partake of such opportunities.
"All children are deserving of love and inclusion, whether they are young boys or young girls, and I am grateful that we can share this day together, most especially with the young girls with special needs," First Lady Edwin said. The mother of a child with special needs herself, who has capably grown into a financially independent and productive member of society, First Lady Edwin further stated "I took the liberty of inviting 35 young girls from the Pohnpei Department of Education's Special Education services. You being here makes today extra special and I hope that we see today as the launching of further inclusion of girls with special needs in social activities."
"Today it is all about you," First Lady Edwin continued, "YOU young girls of this great Nation and beyond. You are here today because someone believes in you. That someone could either be your mom, your father, your teacher, a teacher aide, or simply a volunteer who believes in you that you can be whatever you are meant to be. And it is the dedication of parents and of adults involvement today that will empower our girls for tomorrow."
First Lady Edwin described how, while many countries required centuries of development to achieve equal rights for women, that such equality is "embedded in our Constitution. We have equal opportunities. We have equal rights to education." Further describing, and naming examples of, women in the FSM who actively represent the Nation abroad (e.g. Her Excellency Jane Chigiyal, the FSM's Permanent Representative to the United Nations) and at home (e.g. the Honorable Monalisa Abello-Pangelinan, Pohnpei State's Attorney General), First Lady Edwin suggested that "for those of you wondering why we don't have any women in the National Congress, you have until the beginning of November to put your name in the March, 2021 election."
First Lady Edwin noted that it has been unquestionably demonstrated that countries that invest in girls, such as by providing them quality education and healthcare, and empower girls, such as by providing them equal rights and opportunities to grow, such as the Girl Scouts program, become measurably stronger economically and politically. The First Lady then announced that she and President Panuelo are opening a national conversation about how to align National Government resources to more directly support State Departments of Education and programs that benefit children.
"As girls in the FSM, you deserve to know what your Government is doing to provide you the opportunities you need to succeed, just as you are obligated to acknowledge that the only person who defines success
for you is you. Your body is your body, your life is your life, and you are the one who gets to determine what you will become. It's the Government's responsibility to give you the opportunities, and it's your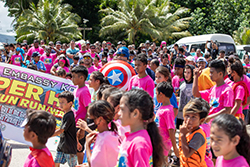 responsibility to make use of them. Your feelings are mentionable, and your experiences are mentionable," the First Lady said.
"Girls, if there's one thing you take away from my statement today," First Lady Edwin concluded, "I want it to be this: each and every one of you is amazing and unique. You being here has made today a wonderful day, just by you being you, and I like you just the way you are. Know in your heart that you are beautiful, that you can be whatever you want to be. It is said that girls' voices are not heard or not taken seriously, but in order to be heard you must first Get Educated and Stay Educated. Know that you are a superhero in the making, because it is YOU who will define to the world what a Micronesian woman is. I am proud of you."
In addition to the First Lady's address, other events prior to the Superhero Funwalk proper included an address by Her Excellency Carmen G. Cantor, Ambassador of the United States of America to the FSM, wherein she described girls' unique role in the Nation-building process; an address by Mr. Cromwell Bacareza, Country Liaison Officer for UNICEF to the FSM, wherein he described girls' capacity to influence and construct a democratic and equitable society; the Girl Scout pledge by the Girl Scouts of Pohnpei State, and accompanying song; and a skit by students of Nett Elementary School on how girls can contribute to the Nation's COVID-19 prevention and mitigation efforts.
After the Funwalk, Ms. Evelyn Adolph of the United Nations Population Fund (UNFPA) gave an address on behalf of Dr. Natalia Kanem, Executive Director of the UNFPA, wherein she candidly and correctly asserted "it is every girl's right to speak and to be heard."