Kolonia School celebrates Global Handwashing Day
Details

Category: News
Published: Monday, 30 November -0001 00:00
Written by Bill Jaynes
Hits: 286
UNICEF
October 30, 2020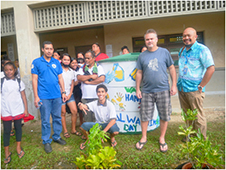 Kolonia, POHNPEI - The Kolonia Elementary School together with UNICEF and The Environmental Protection Agency (EPA) joined the global community in celebrating this year's Global Hand Washing Day that was on October 15, 2020 at the Kolonia Elementary School under the theme "Why Hand Washing is Important."
The celebration by the Kolonia School students included activities and performances such as poem reading, power point presentations, singing, speeches and skits which the students carried out in promoting the importance of hand washing. The students also skillfully painted a water tank, donated by UNICEF with support from USAID to be used for the school's hand washing activities. This gave the students the opportunity to promote specific COVID-19 preventive behaviors by painting the messages on the water tank.
Mr. Cromwell Bacareza, Chief of UNICEF Field Office in FSM while interacting with the students stated that COVID-19 pandemic is an important reminder that handwashing with soap and clean running water is one of the simplest, but most effective ways to stop the spread of germs and diseases like COVID-19. He added, "many germs and viruses that can make us sick are spread when we don't wash our hands with soap and clean water, and somehow our contaminated hands or fingers find their way into mouths, eyes or nose."
The Global Hand Washing Day is celebrated every 15 October, to raise awareness on the importance of washing hands with soap. This year, hand washing has taken more center stage as it is one of the most efficient ways to protect oneself against the ongoing coronavirus (COVID-19) pandemic. In addition, the Global Handwashing is a way of reinforcing the message that proper hygiene not only prevents transmission of diseases but keeps people healthy.