Pacific Security in the COVID-19 Environment – Joint Heads of Pacific Security
Details

Category: News
Published: Monday, 30 November -0001 00:00
Written by Bill Jaynes
Hits: 317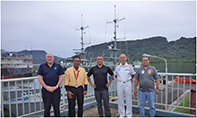 The second Joint Heads of Pacific Security event was held virtually on the 5th of November, bringing together the security leaders of 23 Pacific nations and territories, Timor Leste, the United States of America, Japan, France and Australia.
The forum facilitates discussion to collectively build resilience for future security challenges, like the pandemic we are currently facing.
The global pandemic continues to impact us all profoundly and managing the security effects in addition to social, economic and health impacts of COVID-19 is now a central challenge for our region.
COVID-19 has presented new challenges to the security environment, impacting our nations in different ways – including to our maritime and border security efforts. These challenges were not made any easier by the devastation of Tropical Cyclone Harold across Fiji, Vanuatu, Tonga and Solomon Islands, complicating the humanitarian assistance and disaster relief responses that followed.
Fortunately, we have been closely engaged as partners throughout the COVID-19 period as each nation responded to the immediate challenges to our security, our health and our people.
Coming together for the Joint Heads of Pacific Security forum encourages discussion of our individual responses to COVID-19 and how we can become better than the sum of our parts. The collective knowledge and experience of Pacific security leaders informs and shapes the regional security agenda. It leads to interagency responses and resilience activities that will ensure we are future ready.
By staying connected we can respond to this pandemic together. We are stronger together and we look forward to brighter days with more regular engagement, exercises and operations. Australia looks forward to hosting the third iteration of the Joint Heads of Pacific Security forum in 2021.