COM Youth led the Global Handwashing Day 2020
Details

Category: News
Published: Monday, 30 November -0001 00:00
Written by Bill Jaynes
Hits: 259
By Alvie Cabanez
KPress Volunteer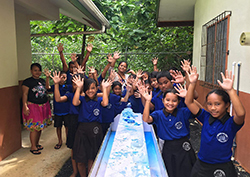 Pohnpei--On October 15, 2020, the College of Micronesia (COM) Youth volunteers celebrated Global Handwashing Day. This year's theme, "Hand Hygiene for All", is a wakeup call for communities to achieve universal hand hygiene especially during the current COVID-19 pandemic. The day serves as a platform to raise global awareness on the importance of frequent handwashing with soap at critical times.
The event, which coincided with celebration of UN at 75 years was commemorated from October 15-31, 2020 in a series of activities. A total of 2,941 students participated in the celebration wherein 1,519 were boys and 1,422 were girls.
The latest data collected by Risk Communication and Community Engagement (RCCE) outreached team indicated that over 85% of families in Pohnpei have access to functional handwashing facility at home while over 75% stated that they know the correct steps of handwashing.
"This year's event is particularly significant for everyone because it is not just about supporting health and hygiene habits, it is about safeguarding our lives", said Mr. Jeffrey Ing, WASH Chief in North Pacific. "Washing our hands with soap and water frequently is something that we have often taken for granted. The COVID-19 pandemic reminded us that one of the most effective ways to stop the spread of the virus is also one of the simplest; through proper hygiene, especially handwashing with soap," he continued.
One of the highlights of the event was a hand-washing competition, which was intended to judge students that would be able to follow the recommended handwashing techniques. Through this competition the
students were reminded about the importance of handwashing and the correct hand-washing steps. An estimated 105 students, half of them were girls, participated in the hand-washing competition by following the correct hand-washing steps provided by the Department of Health & Social Affairs (DOHSA).
"Seeing the students' creativity, their insights on the pandemic, their wisdom on how they perceive things around, they seem to be very aware just how severe the condition of the virus is right now," said Kawika Duff, COM Youth Leader.
The schools that participated in the hand-washing competition were Lukop Elementary School, Enipein Elementary School, Awak Elementary School, Nett Elementary School, and Pohnpei Integrated Central School (PICS) High School, and the College of Micronesia at the national campus. The winners of the contest were given hand washing essentials and school supplies such as crayons, markers.
Alongside the handwashing competition, COM also conducted a Poster and Essay Writing contest which required participants to send in their best entries on proper handwashing. The winners for the poster contest came from Seventh Day Adventist School (SDA) namely, Madlima Leben- 1st place; Makaylea Charley, Beulah Tamani, & Maryjoy Serrano- 2nd place; and Sanjay William, Sandileen Talugmai, & Simplicia Aisam- 3rd place. The essay contest winners came from Our Lady of Mercy Catholic High School (OLMCHS) namely: Prinet Richard- 1st place; Vemica David- 2nd place; and Kathleen Dacanay- 3rd place.
"Micronesian Youth plays a very crucial role in building a better future for FSM. These generation of young people forms a large part of the society but a lot of them are not realizing their full potential to make a difference," said Mr. Cromwell Bacareza, Chief of UNICEF, North Pacific. "In partnership with the College of Micronesia, UNICEF works with these youth champions to help advocate their rights to have access to good health and education services; promote gender equality and fight any forms of discrimination; ensure that safe water, proper toilets and hygiene practices are within reach", he added.
United Nations Children's Fund (UNICEF) and COM have an ongoing partnership which aims at mobilizing young people through training and advocacy activities on issues of Water, Sanitation, and Hygiene (WASH), especially during the current COVID-19 pandemic. This partnership between UNICEF and COM is generously supported by USAID.