President Panuelo and Vice President George virtually receive Her Excellency Anke Reiffenstuel, Ambassador of the Federal Republic of Germany to the FSM
Details

Category: News
Published: Monday, 30 November -0001 00:00
Written by Bill Jaynes
Hits: 244
FSM Information Services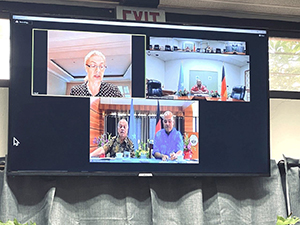 PALIKIR, Pohnpei—Recently, His Excellency David W. Panuelo—President of the Federated States of Micronesia (FSM), and the Honorable Yosiwo P. George, Vice President of the FSM, received Her Excellency Anke Reiffenstuel, Ambassador of the Federal Republic of Germany to the FSM, in a virtual Presentation of Credentials ceremony and follow-up courtesy call.
After the acceptance of Ambassador Reiffenstuel's credentials and confirmation to the FSM as the Ambassador of Germany, the Ambassador spoke about the historical ties between the FSM and Germany, and the strong potential to enhance FSM-German cooperation in areas of mutual interest, including strengthening FSM-German multilateral cooperation at international organizations such as the United Nations. The Ambassador noted Germany's awareness of how the FSM has thus far prevented COVID-19 from entering the Nation's shores, and congratulated the Nation for its vigilance towards protecting public health.
Beginning his remarks, President Panuelo said "Our two countries have indeed had long historical ties…. My great-grandfather was German; my middle-name is Weilbacher, a German name, and you can see Germany's presence from the late 1800s to the early 1900s has continued to influence elements of our languages and social and governmental structures. We thank Germany for continuing to remember our close ties together. I also thank Germany for your global contributions to multilateral organizations, such as the United Nations, and through the European Union via the Africa-Caribbean-Pacific Islands (ACP) grouping."
President Panuelo noted his appreciation for the high rate of women in positions of leadership in Germany, and noted his hope that the FSM can eventually follow its lead. "[Chancellor] Angela Merkel is one of the leaders our Nation truly respects for her strong performance in standing up for justice, not only for Germany and the European Union, but throughout the world, including dedication to the rule of law and your progressive position on Climate Change."
"We treat Climate Change very seriously," the President continued, "it's an existential threat to the Pacific, and I appreciate that Germany is one of the countries advocating for our mutual obligations under the Paris Agreement."
The President thanked Germany for its support of the forthcoming United Nations Multi-Country Office that will serve the North Pacific countries in the Micronesian sub-region.
President Panuelo and Ambassador Reiffenstuel agreed that the Ambassador will continue to liaise with the Honorable Kandhi Elieisar, Secretary of the Department of Foreign Affairs, in an effort to strengthen existing FSM-German cooperation.