Traditional Navigation Program sets sail at College of Micronesia
Details

Category: News
Published: Monday, 30 November -0001 00:00
Written by Bill Jaynes
Hits: 287
Okeanos Foundation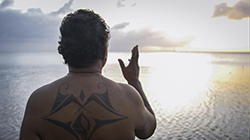 The tight travel restrictions that isolated Micronesia from international travelers over the preceding months has not stopped twelve Micronesian men and women from learning to voyage like their ancestors. In the summer of 2020, College of Micronesia-FSM launched its year-long traditional navigation program in collaboration with philanthropic non-profit Okeanos Foundation for the Sea.
The highly practical program is running over the course of one year, consisting of two parts: "Traditional Navigation" delivered by Yapese Grand Master Navigator Ali Haleyalur and "Applied Seamanship " initially intended to be taught by Okeanos Fleet Commander and Grand Master Navigator Peia Patai.
Ali Haleyalur, relative of Pwo Master Navigator Mau Piailug who famously sparked the voyaging renaissance in Hawaii in the 1970s, has long preserved the knowledge of traditional navigation amongst Micronesian sailors. Haleyalur aims to provide participants with the knowledge and skills in the traditional way of Micronesian navigation. It is hoped that its offering will rekindle interests in the preservation of this indigenous knowledge and to examine its relationship with modern science, e.g. oceanography, meteorology, and other related fields.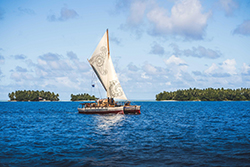 The twelve participating students, comprised of men and women from Yap and Pohnpei, will be assessed in identifying the navigational stars, sea creatures, birds or flocks of birds, groups of fish, and insects. Like their seafaring ancestors, the students will have to demonstrate proficiency and knowledge in determining the general directions of ocean waves, which in turn determine navigational directions and the bearings of other islands, while also naming the ancient sea lanes between Palau to the Marshalls to the Marianas.
In lieu of the COVID travel ban that has prevented Captain Peia Patai from traveling from the Cook Islands to teach the second half of the program, acting College of Micronesia-FSM Dean Tioti Bauro Teburea voluntarily assists with the course offering in the area of seamanship (Basic chart-work) and COLREGS "International Regulations for Preventing Collisions at Sea". The College of Micronesia campus also provides safe transportation and dinner to all students.
Aside from teaching, Haleyalur continues to collaborate with Okeanos Foundation to support traditional sailing and sustainable sea transportation in Yap and beyond Micronesian borders. In 2019, Haleyalur sailed the sustainable and traditionally inspired canoe Okeanos Ambassador from Saipan to Yap, where it works in tangent with its sister canoe Okeanos Waaqab to service Yap's outer islands.