Kingdoms of U and Madolenihmw join in celebration of Thanksgiving and a welcome of the Christmas season
Details

Category: News
Published: Monday, 30 November -0001 00:00
Written by Bill Jaynes
Hits: 336
By Bill Jaynes
The Kaselehlie Press
November 28, 2020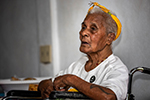 U, Pohnpei—On Saturday, the kings of U and Madolenihmw joined together at the home of Iso Nahnken Ihlen Joseph in U for an unprecedented local styled celebration of Thanksgiving and to welcome the new Christmas season with good will and spirit.
It was the first time for Wasa Lapalap Isipahu Herbert Hebel, Nanmwahrki of Madolenihmw, to visit U and to meet with Wasa Lapaplap Sahngoro Pedro Moses, Nanmwahrki of U.
Last Sunday, the Kingdom of U sent emissaries to Temwen to formally invite Isipahu to join them for a celebration which he graciously accepted. It was an unusual meeting in that the kings of Pohnpei's municipalities rarely meet formally except at funerals according to some local sources familiar with the traditions.
As is customary, the people of the host kingdom provided many pigs, huge sakau plants, and massive stout yams that took a dozen people to carry.
The celebration was highlighted by dancing and much laughter. It was a happy time for the two kingdoms and signals a close relationship.