University of Guam With the culmination of a five-year effort to gather a breadth of geospatial data and display it on an interactive digital atlas, the four main islands of the Federated States of Micronesia are now more easily researched than any ot
Details

Category: News
Published: Monday, 30 November -0001 00:00
Written by Bill Jaynes
Hits: 374
By Bill Jaynes
The Kaselehlie Press
December 14, 2020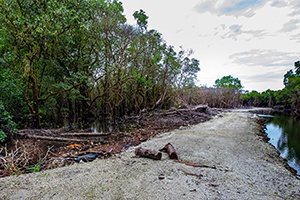 Ipwal, Sokehs— John Weilbacher, Soulik en Ipwal says that if something is not done soon about the dredge site in his village he will be forced to file a lawsuit against the government. He says that the Environmental Protection Agency (EPA) and the necessary government agencies issued a permit for the dredge site but that the permit was issued in April, several months before the law governing that process was passed. He says that since the dike went up, the lush mangrove forests have been dying due to the waterway being blocked by the dike servicing the dredging operation.
Henry Susaia, Director of EPA said this morning that in November the EPA recommended that the dredge site operators open up the dike to allow water to flow into the west side of the mangrove, which is in fact dying according to a report by the Natural Resources Management Office conducted in November.
On visiting the site late last week and photographing the site we noticed no change in the dike nor in the withering mangrove on the west side of the dike.
"They're supposed to open it up," he said. When asked what would happen if the operators did not open it up he said that EPA would have to file charges. That has not yet happened.
The dike is situated in the Daw Kerebw channel, a natural channel that legend says was carved out by Kihel, an ancient and massive lizard of lore.
Weilbacher says that his primary concern is the number of trees in the mangrove that have already died and the ones that are currently choking to death but that there are other concerns as well. One of them is that he says access to the channel by boats for residents to reach the ocean in order to continue to earn their livelihood is barred by the dike. He says
another concern is the selling of the coral which he calls the community's shared property.
Weilbacher is also disappointed in the actions of legislators on the matter. He claimed that early this year Senators from Pohnpei State Legislature met with traditional and municipal leaders of Sokehs and told them that before any legislation was passed on a dredging bill they would hold public hearings. Weilbacher claims that if the Pohnpei Legislature held public hearings on the bill they passed a few weeks later, none of the people present at the meeting at the Sohehs Municipality received any notice of any.
Susaia says that EPA has been checking progress at the dredge site on a weekly basis but could not provide a status report on activities there.
"Ipwal mangrove forest is the thickest forest on the northern side of the Sokehs Island (Pwahpwahlik) and it should not be allowed to be dredged or disturbed," the report by the Natural Resources Management Office said. "Nonetheless, a dredging permit was awarded to the proponent, Mr. Joseph Ferdinand which [gave] him the right to pick any company of his interest to task for implementing the dredging operation. As a result of not considering all the recommendations and conditions provided by assessment parties, especially the Natural Resources Management Office...they dredged the area…causing excessive dieback in the mangroves. They block[ed] the natural waterway at the left side of the dike going out to the reefs and trap[ped] the water inside the system. The circulation is limited [which] leaves the rooting system of those mangrove plant species to start to rot causing dieback."
The Natural Resource Management Office report says that it had recommended that the area not be dredged but "if by any chance they are given permission to dredge, not to block the mouth of the streams and waterways…"
"The Natural Resource Management Office strongly recommends that the proponent and contractor should open up the waterway to allow the normal circulation of the water to start flowing again. Moreover, we also advise that permitting parties [should] start considering the conditions provided by the assessment teams from the NRM Office to stop this poorly engineered action from happening again."