Government of Japan provides cash for bathroom renovations at Palikir Elementary School
Details

Category: News
Published: Monday, 30 November -0001 00:00
Written by Bill Jaynes
Hits: 288
By Bill Jaynes
The Kaselehlie Press
December 10, 2020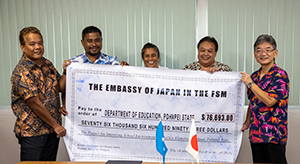 Pohnpei—In a short ceremony at the Embassy of Japan in Kolonia, Pohnpei this afternoon, Ambassador Sobashima Hidenobu turned over a grant of a maximum of $76,693 to Palikir Elementary School under the Grant Assistance for Grassroots Human Security Projects of the Government of Japan.
"Children will be the leaders of tomorrow," Ambassador Sobashima said. "They are the gemstones to be polished by education to become jewels."
He said that Palikir Elementary School currently has 246 female students and 288 male students. It also has 23 teachers and staff members. However, currently there is only one bathroom to service the entire school population, resulting in long queues and the possibility of health concerns. Further, the walkway to the restrooms is not covered causing an inconvenience during times of rain.
The grant will cover the renovation of three restrooms and their 15 flush toilets and 14 sink basins, renovation of the drainage ditch of 110.33 meters, and the construction of walkways with roofs between the restrooms and the classroom buildings.
Though Pohnpei Governor Reed Oliver was present at the ceremony, Director of the Pohnpei Department of Education, Stanley Etse spoke on his behalf, thanking the Ambassador and the people of Japan for the generous donation of funds. Francisco Ifamilik, Principal of the Palikir Elementary School was also present at the ceremony.