UNICEF supports partnership of DoHSA and FSMTC to brand Mobile Recharge Cards with COVID-19 messages
Details

Category: News
Published: Monday, 30 November -0001 00:00
Written by Bill Jaynes
Hits: 412
UNICEF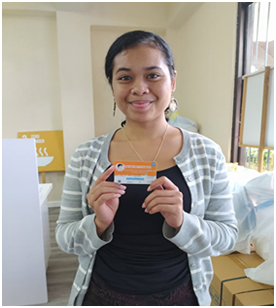 PALIKIR Pohnpei----On November 15, 2020, FSM Telecommunication Corporations (FSMTC) began retailing to customers the highly anticipated $5 denominated prepaid Tel-Cards which carry key messages and precautionary behaviors for preventing COVID-19. The initiative, supported by UNICEF, is a new partnership between the Department of Health and Social Affairs (DoHSA) and FSMTC, which aims at further increasing awareness about COVID-19 preventative measures.
"The FSM is always on the lookout for effective avenues to share useful information with the general public and so I believe putting messages on mobile telephone scratch cards is another innovative way of helping reach our communities with COVID-19 preventive messages. I cannot describe how appreciative we are to UNICEF for their continued support in the country's COVID-19 preparedness and response; and of course, we are grateful to FSMTC for helping get these cards into the community," said Mr. Quincy Lawrence.
Mr. Sebastian Tairuwepiy, a regular customer of FSMTC upon seeing the new scratch card designs for the first time said, "In fact the cards are so beautiful; they have messages that can be reminding people about how to stop the spread of diseases like COVID-19. Everyone must play their part for a better tomorrow."
Given that one of the most important and effective interventions in the current COVID-19 emergency preparedness and response is proactive communication and community engagement, the Department of Health Services of Pohnpei, Chuuk, Yap and Kosrae States have been vigorously implementing various strategies and methods to ensure the population get the right messages at the right time in order to protect particularly the most vulnerable.
The Chief of UNICEF Micronesia Field Office Mr. Cromwell Bacareza underscored UNICEF's commitment to supporting innovative ways of communicating and engaging with the public for social and behavior change. He said, "We are particularly excited about the fact that the key COVID-19 preventive messages have been printed on the $5 recharge card, which seems to be the most patronized card value by customers and thus would help us reach majority of the people with lifesaving messages."
Informing populations about the health risks posed by COVID-19, as well as measures they can take to protect themselves, is key to mitigating spread and reducing the risk of people getting infected. Providing accurate information using the most effective channels can help to make decisions and adopt appropriate behaviors to protect themselves and their loved ones from diseases such as COVID-19.