Promoting positive behaviors through art: Micronesia Red Cross Society youth champion COVID-19 public awareness
Details

Category: News
Published: Monday, 30 November -0001 00:00
Written by Bill Jaynes
Hits: 305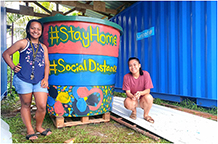 Art is one of the most powerful means for communication as it transcends cultures and creates bridges between people.
Amidst the threat posed by the COVID-19 to the world including the FSM, the Micronesia Red Cross Society youth and the Department of Health and Social Affairs (DoHSA), supported by UNICEF have joined forces in an effort to use art through painting of Water Tanks to sensitize communities about COVID-19 prevention and positive behavioral practices.
Prevention remains the mainstay in defeating the COVID-19 epidemic.
********************************
About COVID-19
COVID-19 is an infectious viral disease which is transmitted through droplets generated when an infected person coughs, sneezes, or exhales. A person can be infected by breathing in the virus if he/she is within close proximity of someone who has COVID-19, or by touching a contaminated surface and then his/her eyes, nose or mouth. The most common symptoms of COVID-19 include fever, dry cough, difficulty breathing and tiredness.
The simplest measures to reduce exposure to and transmission of COVID-19 include maintaining basic hand and respiratory hygiene like frequently washing hands with soap; covering the mouth or nose with a tissue when coughing or sneezing; and avoiding close contact by maintaining physical distancing of at least 6 feet away.