Kumer Panuelo boat wins top prize in 17th Annual Budweiser Fishing Tournament - the last of the year
Details

Category: Sports
Published: Monday, 30 November -0001 00:00
Written by Bill Jaynes
Hits: 349
US Embassy provides five EPIRBS to lucky raffle winners
By Pohnpei Fishing Club
December 5, 2020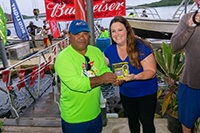 Pohnpei—26 boats registered for the Pohnpei Fishing Club's 17th Annual Budweiser Tournament sponsored by Ambros, Inc. and Budweiser. The "Catch 6" tournament, the club's last tournament of the year, was held on December 5 with angles trying to catch a billfish, Yellow Fin and other tuna, Skip Jack Tuna, Wahoo, Barracuda, or Giant Trevally in order to win a cash prize.
Though fish of each species and some others including a couple of Mahi Mahi were caught, the winning boats caught four species each from the list of qualifying fish. Since there were three top prizes, they went to the three boats that landed four species with prizes awarded based on the combined weight of the heaviest fish of each species caught aboard each boat.
Before naming the top anglers and captains, the club held a raffle for five EPIRBS (Emergency Position Indicating Radio Beacon-an electronic device that is automatically activated if submerged in water and can be manually activated if a boater needs rescue) provided by the United States Embassy. U.S. Charge d'Affaires Somer E. Bessire-Briers presented a certificate for the winners of that raffle to pick up their EPIRBS after participating in a training session at the US Embassy during the following week. The winners of that raffle were Melner Isaac of "Ms. Meseirong", Marvey Spencer of "Dolphin", Taylor Paul of "Chicken Shit", Gus Kohler of "Miss Molly", and Welber David of "Pwoawoahwoah".
Though the Pohnpei Fishing Club requires that each registered boat have an EPIRB aboard in order to participate in its tournaments and provides them to boats that don't have them, the US Embassy donations will be the property of the boat owners who can use them ANY time they take their boats out rather than just during fishing tournaments.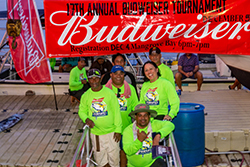 Boat owners who already owned an EPIRB could participate in a raffle for a bottle of whiskey donated by club member Aaron Nighswander. Billy Dakano of the boat "DAD" won that raffle.
The club then proceeded to prizes based on fishing. The top boat winner was "Happy Hookers", captained by Kumer Panuelo for a total of 111 pounds winning the captain the $400 top prize. Individual anglers also won prizes and Wilmar Aquino who was aboard the "Happy Hookers" won the $100 prize for biggest species with his top weighing Sailfish of 77 pounds.
The boat "First Lady" captained by FSM President David W. Panuelo won the $300 second prize for their qualifying fish that weighed a total of 42.5 pounds. Patricia Edwin who was fishing aboard that boat also split the $100 prize for the biggest Barracuda with Lara Marangi Trott who was fishing aboard the Pepe Erepani captained by James Wichman. The two anglers caught twin 9.5 pound Barracudas.
The "Ms. Meseirong" captained by Melner Isaac captured the third prize for total boat weight of qualifying species for a total of 32 pounds and a prize of $150. Ohsan Ernest, Jr., who was fishing aboard Isaac's boat won $100 for his top weighing Skip Jack Tuna, a substantial 14.5 pounds for a Skip Jack.
Welber David aboard the "Poawoahwoah" took home a top $100 individual prize for his 35 pound Yellow Fin tuna.
Francisco Mendiola who was captaining the vessel "Miss Pikeniap" caught the prize winning Wahoo of 28.5 pounds for a $100 prize.
Eddie Abraham fishing aboard the vessel "Lien Pul", captained by Asterio Takesy boated the $100 prize winning Grand Trevally.
No one landed a marlin, much less a jackpot winning record marlin so that jackpot amount continues to grow.
In addition to the cash prizes, Budweiser and Ambros provided t-shirts, hats and a case of beer to all registered boats.
Patients of the Pohnpei State Hospital were also winners of the 17th Annual Budweiser Fishing Tournament. The club routinely donates fish to the Hospital and to the prison but those donations and their amounts are seldom reported, a situation that should be rectified in the future. Anglers in the Budweiser tournament donated five Skipjack Tunas weighing a total of 25 pounds, a 9.5 pound barracuda, and a Sailfish in excess of 60 pounds to the hospital to help feed its patients.
Uta and Cheryl provided curry for sale at the weigh-in at Mangrove Bay with proceeds to again benefit the Pohnpei Public Library.
We can't do these tournaments without our helpers—a big thanks to Bill, Virginia, Cel, Serlynn, and all the guys on the dock and in the boom truck.
It was a shortened season, but hopefully next year will be full go. The Annual General Meeting should be in January or February, date to be determined, with tournaments starting again in March.
In the meantime be safe, have happy holidays, and leave a fish out for Santa.