Local NGO slowly making an impact in community work
Details

Category: News
Published: Monday, 30 November -0001 00:00
Written by Bill Jaynes
Hits: 317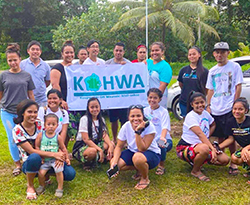 Koupweliki OH Wauneki Atail--sohso (KOHWA) -to have pride and respect for our inheritance- land, ocean, & cultural practices are what KOHWA Inc., and the volunteers draw their passion for service.
It is a local non-government organization (NGO) which works with communities to improve sustainable practices and promote environmental stewardship through alternative income generation and community education on health, environment, and cultural heritage in Pohnpei.
Out of passion to support communities and maintain a healthy environment, KOHWA members initiated the project, KOHWA KIHWEI. This project aims to provide assistance to low-income communities and to help waste management in Pohnpei by encouraging people to donate gently used household items for redistribution and reuse instead of allowing them to become waste.
On November 28, 2020, the organization distributed assorted donations at Nansalohi, Madolenihmw, a community otherwise known as Pihs. "It is very fulfilling to be part of KOHWA KIKWEI project and be doing this practice of gratitude," said Yota P. Oue, President, KOHWA, Inc., "This is timely and appropriate because we had Thanksgiving lately, we get to share the things we're grateful for, and these blessings to the community."
"We did a poll on Facebook in selecting the communities to conduct the outreach," said Luan Lavern Gilmete, Vice President, KOHWA Inc., "The first KOHWA KIHWEI was in Ponrakied St. last June and the second one was in Pakin Island sometime July."
Chairman Peter Luke, Protestant Church, was grateful for the organization and for the voting public in choosing them as the beneficiary. "We welcome all organizations who has the same project with KOHWA because it is very beneficial to our community," he said.
KOHWA Inc., was officially recognized as an NGO in January 2019, currently has ten active members, and five advisers. William Kostka, Executive Director of the Micronesian Conservation Trust (MCT), and the First Lady, Patricia Edwin, were among the five advisers of the organization.
They NGO has other on-going projects, including the Trash Bin Project, that was initiated-in partnership with Eco-Friendly Options (EFO), the Green Society, and Marcella Foundation. Healthy Homes, on the other hand, is their biggest project yet, which focuses on renovating homes for people in climate change vulnerable communities, targeting low-income families, specifically senior and/or disabled citizens.
Given the extenuating circumstances, the organization still continues to work for community development. "We are committed to one goal and that is helping the community," said Daisy Falcam, an active member.
Follow KOHWA on Instagram, kohwa_fsm, and on Facebook.