In Memoriam: Bethwel Henry
Details

Category: News
Published: Monday, 30 November -0001 00:00
Written by Bill Jaynes
Hits: 251
FSM Information Services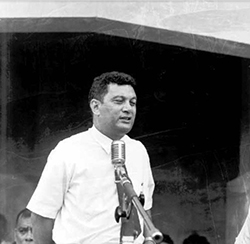 PALIKIR, Pohnpei—On December 16th, 2020, the Honorable Bethwel Henry, the first Speaker of the FSM Congress, and later the Postmaster General from 1988 to 2007, passed away.
Born March 3rd, 1934, on Mwoakilloa Atoll, Bethwel Henry was a personified demonstration of public service. His decades of dedication to the Congress of Micronesia under the Trust Territory of the Pacific Islands, to the FSM Congress as its first Speaker, and to the FSM Postal Services, allowed for our Nation to emerge from a dream to a reality, and for our young Government to enjoy continuity. Bethwel Henry's helpful demeanor ensured that the work of the Legislative Branch was always executed in an exemplary manner, and his commitment to public service ensured that our Postal Services were reliable. In fact, of the bottomless list of accomplishments one can attribute to Bethwel Henry, one that has had a real-life effect on every FSM citizen was his assistance in ensuring FSM postal rates are the same as U.S. domestic destinations.
The FSM National Government has been remarkably fortunate to have been blessed with Bethwel Henry's service to the Nation and its citizens, for he represented the virtues that the Nation stands for and believes in. Bethwel Henry spent every day of his life extending peace, friendship, cooperation, and love in our common humanity to everyone he encountered.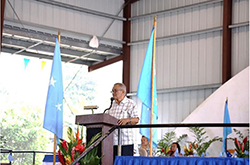 The Government thanks Bethwel Henry for his many and noble deeds, and sends its deepest condolences to all of his friends and family in this time of mourning, and asks that the citizens of the Nation recall his good character, and reflect on his outstanding service to the people.
His Excellency David W. Panuelo, President of the FSM, has proclaimed an official period of mourning. The Presidential Proclamation is available here: https://gov.fm/files/2020_December_17- PROCLAMATION_LATE_SPEAKER_THE_HONORABLE_BETHWEL_HENRY.pdf
On December 21, The FSM National Government held a State Funeral for the Honorable Bethwel Henry at the FSM Congress Chamber where Henry served as the first speaker after which a service was held at his church in Kepinle. He was laid to rest on December 22.