'Education is the key to success': Teacher from conflict zone instructs on public health and disaster risk reduction
Details

Category: News
Published: Monday, 30 November -0001 00:00
Written by Bill Jaynes
Hits: 656
Interview with Ethelyn Ankiambom Chia, written by Kalika Kastein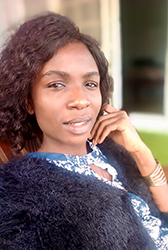 On the northeastern part of the island of Weno in Chuuk State sits a combined community center and school near the shore. Ethelyn Ankiambom Chia, or "Ankia," walks up the painted white staircase every weekday at Akoyikoyi Elementary and prepares to teach her energetic students, passing by the school's motto "Awakening Opportunities'' posted near the entrance.
Ankia stayed in her role despite being over 15,000 kilometers away from her family in Cameroon and is one of the few international teachers to do so despite border closures due to the COVID-19 pandemic. She taught second-grade last year, but because of staff departures related to the pandemic, she has been teaching third and seventh grade this year.
Born to Chia Marcus Chia and Angeline Funduma in the lush, mountainous Northwest region of Cameroon, Ankia is part of an ethnolinguistic group of Anglophones in a majority Francophone country, a native speaker of both English and her local dialect of Itaŋikom. She was cared for by her older siblings after the death of her parents during her childhood. "Losing my parents at an early age, I have been raised by older siblings with a little support from extended family and a few people with goodwill."
Her upbringing shaped her beliefs on community service and support. As a sixteen-year-old, she began assisting and contributing to volunteer-led community projects with her aunt and uncle who were community hosts and counterparts with the Peace Corps in Cameroon. She later connected to former Peace Corps volunteer Clark Graham in Chuuk State and was hired to teach at the charter school he founded: Akoyikoyi Elementary.
Her move from Cameroon to Micronesia and from public health to teaching was motivated by her first-hand experiences in conflict zones and a belief in education as a way to prevent violence. There has been a violent conflict in her home country since 2016 targeting members of her ethnolinguistic group. In 2016, Cameroon's predominantly Anglophone Northwest and Southwest regions protested against the Francophone-dominated education and legal systems. This protest from the English-speaking minority resulted in swift government reaction. This spun off a number of armed separatist groups that met these acts of violence with their own. During her time in Cameroon, Ankia provided humanitarian relief and psychological support in her role as a public health worker.
"Conflicts most often result in increases in disease spread and deterioration of health systems which makes disease prevention and control very difficult and such death rate is higher in conflict areas, not only from
the massacre but also from preventable/curable diseases that lack attention," she said.
Women and children, in particular, have been affected by the ongoing violence in Cameroon. For women, rates of gender-based violence have increased. Women have taken to the streets in protest to call for an end to the fighting between the rebels and the government with signs demanding peace and advocating for children. Once frustrated by the manner in which education was being administered by the government, Anglophone civilians, including a large number of women, now take to the streets with signs urging the government and separatists to consider "Peace: War is costly, but peace is priceless" and "We need pens not guns."
As recently as October, thirteen school children from Ankia's ethnolinguistic group in Cameroon were critically injured and seven were killed. With both government and separatists engaged in a conflict that both threatens and destroys homes, public property, and life, manipulating civilians through kidnappings and killings has become a violent tactic. Children, especially those in the Anglophone region, now risk their lives to attend school. Education has been used by both the government and separatist fighters as a tool of control, a fact which motivated Ankia's decision to advocate for students and their education by becoming a teacher.
Ankia herself was finishing her schooling when the conflict started, and witnessed how difficult and risky the conflict made her studies. "The crisis has negatively affected many of my peers and even younger girls, most have been sexually assaulted resulting in unwanted pregnancies, crude abortion, and death," Ankia said. She sees herself as part of the movement of women within her country calling for peace, not just within Cameroon, but also on a global scale.
"I believe education is the key to success and a very important tool in conflict resolution. Because the younger generation in my home country has been denied access to education by the unrest, I think investing in educating other children in any part of the globe, such as Chuuk, builds leaders of tomorrow who will eventually foster world peace."
Today, Ankia has been working on public health initiatives for her school, such as constructing a tippy-tap (a handwashing device) and talking to students about disease prevention.
"I used the science classes to teach basic hygiene to students. I also taught proper handwashing in November 2019, and this turned out to have been very useful following the COVID-19 outbreak. Students had already been talking about and practising proper handwashing at their homes and in school which made it easier for them to adapt to other measures to prevent the spread of the virus."
Her interest in "prevention" rather than "response" in the field of public health also sparked her curiosity on prevention methods in the context of natural and man-made disasters. She was recently accepted to an online professional development course from the United Nations Institute for Training and Research on disaster risk reduction, specificallykp focusing on the impact of disasters on small island nations, like Micronesia. She has joined the training as a participant from the education sector and looks forward to sharing some of the knowledge learned during the course with her young students at Akoyikoyi Elementary.
To read more or support community and youth-centered education around public health, peace, and disaster risk reduction at Akoyikoyi School in Weno, please visit https://www.ship-hoops.org/akoyikoyi-school/.