FSM Postal Services & Okeanos Foundation for the Sea Complete Christmas Deliveries in Yap & Pohnpei
Details

Category: News
Published: Monday, 30 November -0001 00:00
Written by Bill Jaynes
Hits: 412
FSM Information Services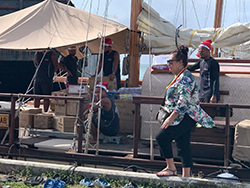 PALIKIR, Pohnpei—On December 24th, 2019, the FSM Postal Service through Postmaster General Ginger Porter Mida confirmed that the Vaka Motu WAA'QAB completed its final delivery of Christmas packages to the island of Satawal, one of the remote neighboring islands of the FSM State of Yap. On December 16th, 2019, the Postal Service departed Yap proper.
The Postal Service, through partnership with Okeanos Foundation for the Sea, also sailed from Pohnpei proper to the islands of Sapwuahfik, Nukuoro, and Kapingamarangi to deliver Christmas packages, leaving Pohnpei on December 10th, 2019, and returning on December 21st, 2019.
Both Vaka Motus were filled with Christmas gifts, food, and regular mail parcels.
The FSM National Government extends its appreciation to the Honorable Marcelo K. Peterson, Governor of the State of Pohnpei, the Honorable Henry S. Falan, Governor of the State of Yap, and the Okeanos for the Sea Foundation for their support in making the FSM Postal Services' Christmas delivery mission a success.
Citizens desiring a similar service in Chuuk State are encouraged to advocate for Chuuk State's acquisition of one or more Vaka Motu canoes.
For more information, the FSM Postal Service can be contacted at:
• Pohnpei—+691-320-2614
• Yap—+691-350-2197
• Kosrae—+691-370-2057
• Chuuk—+691-330-2737