FSM National Government expands tourism sector mitigation fund to more types of businesses also hit by COVID impacts
Details

Category: News
Published: Monday, 30 November -0001 00:00
Written by Bill Jaynes
Hits: 393
FSM Information Services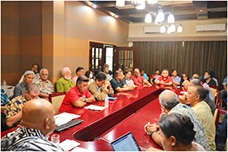 PALIKIR, Pohnpei—On January 12th, 2021, His Excellency David W. Panuelo—President of the Federated States of Micronesia (FSM)—opened the first of a series of exploratory informational meetings between the FSM National Government and the Nation's private sector to discuss the expansion of the Tourism Sector Mitigation Fund, frequently referred to as the FSM Economic Stimulus Package. The FSM Economic Stimulus Package is distinct from the Pandemic Unemployment Assistance (PUA) Program and upcoming social protection programs for low- income families, persons with disabilities, and more on the premise that its primary focus is on Government assistance to businesses in the private sector.
The purpose of these exploratory informational meetings is for the Government to hear from private sector businesses on how they have weathered during the COVID-19 Pandemic, and their view on how the Government can provide meaningful support to them.
The well-attended meeting began with the Nation's macroeconomics advisor, Mr. Rob Solomon, describing the FSM Economic Stimulus Package thus far, and what recent legislation has done to change it.
The FSM Economic Stimulus Package was developed via Public Law 21-104 on April 3rd, 2020, with regulations issued by the President on May 4th, 2020. Approximately $15,500,000 of funding has been secured for this purpose, with $12,000,000 sourced through support from the 21st FSM Congress directly, $500,000 from the Project Development Fund, and $3,000,000 through a grant from the Asian Development Bank.
Per Public Law 21-120, the formula for financial stimulus is equivalent to 100% of salaries and wages paid, 100% of social security paid, 100% of power and water utilities paid, and 100% of gross revenue tax
paid. As of January 12th, 2021, 157 businesses across the Nation have collectively benefited from $3,800,000 of assistance.
Public Law 21-211, signed into law by President Panuelo on December 3rd, 2020, expands the FSM Economic Stimulus Package beyond the tourism sector. The law expands the program to include
businesses that can "demonstrate their business relies significantly on the supply of goods and services to the tourism sector" and "businesses that can demonstrate that their business has been significantly impacted by the COVID-19 Public Health Emergency Declaration."
Following these public consultations with the private sector, the Government will update the regulations and procedures for the FSM Economic Stimulus Package, with application forms sent to eligible businesses.
Representatives from the private sector present on the January 12th, 2021 meeting described numerous concerns, and shared many helpful suggestions, for the Government's consideration on how to improve the implementation of the FSM Economic Stimulus Package.
One business owner described that, during the March 2020 lockdown, many citizens resorted to panic-shopping, and by extension businesses resorted to the same tactic to ensure that consumers would have steady supplies of rice, chicken, and other commodities. Ensuring a steady supply line was noted as a challenge, and how to gauge public demand for a given item versus the Nation's capacity to supply it was equally noted as a concern. It was noted by the Government that supply- chain efficiency is of the utmost importance.
One business owner described that landlords are facing economic hardship when their tenants are stranded abroad. "We are suffering to meet our short-term financial obligations as of this moment," one landlord said.
An individual described that cultural sites such as Nan Madol are highly reliant on fees from tourists. Would it be possible for the Government to provide support to tourism sites?
One business owner described that "mom and pop" container stores near schools were highly impacted when schools across the Nation were closed. Would it be possible for the Government to provide support to micro-businesses?
A representative from a nonprofit organization described that nonprofits offer valuable services to society but may not necessarily be eligible for most forms of economic assistance. The representative inquired if nonprofit organizations might be eligible for financial support, noting that their capacity to provide services to the public would be hindered if they cannot afford their rent, utilities, or salaries to employees.
Another individual, speaking on behalf of the religious community, noted that churches and other places of worship are highly reliant on donations, and that donation-related support has been suffering as citizens more broadly are finding their wallets increasingly empty. The individual asked if there would be any consideration for financial support to churches and other places of worship.
All queries and concerns, including those not mentioned in this Press Release, were noted by the Government and will be discussed in detail at forthcoming meetings after the exploratory conversations with the Nation's private sector have concluded. Citizens interested in reviewing the PowerPoint Presentation shown to the private sector during these exploratory discussions may find it here: http://gov.fm/files/Covid-19_Economic_Recovery_and_Relief_2021.pptx