President Panuelo advocates for gender equality, announces expansion of maternity leave from six to twelve weeks, at the inspiring Women's Advancement Through Collective Action Project Launch & Inception Workshop
Details

Category: News
Published: Thursday, 08 April 2021 04:47
Written by Bill Jaynes
Hits: 418
FSM Information Services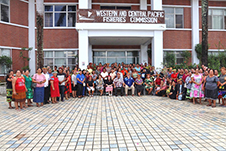 PALIKIR, Pohnpei—On March 18th, 2021, His Excellency David W. Panuelo—President of the Federated States of Micronesia (FSM)—attended the project launch and inception workshop for the new Inspiring Women's Advancement Through Collective Action (IWA) program. Funded by the Government of the United States of America and implemented through the International Organization for Migration (IOM), the IWA is a $2,200,000 program with the intent to contribute towards increased local understanding, and demand, on removing barriers to gender equality in the FSM, the Republic of the Marshall Islands, and the Republic of Palau, through diplomacy and galvanizing coordinated actions.
The intended outcomes of the IWA program are, firstly, that gender discrimination towards women in the workplace, women in business, and entrepreneurs, is reduced through community awareness and socioeconomic empowerment of women. Secondly, the IWA intends to ensure that project partners have increased capacity to take action against gender discrimination within their institution.
The IWA project includes numerous activities for women and youth, some of which include the creation of a Youth for Art initiative; the creation of a media influencer program; the creation of a Communication as Change campaign; a review of the regulatory landscape session; an emerging women leaders' session; and competitive small grants to NGOs, youth-lead, and faith-based organizations to address gender discrimination, among many more. The FSM National Government strongly encourages citizens to review a video made by Her Excellency Carmen G. Cantor, Ambassador of the United States of America to the FSM, which is available here:
The project launch and inception workshop's schedule included opening remarks from Lululeen Santos and Nathan Glancy, Consultant and Chief of Party of IOM respectively, the Honorable Somer Bessire-Briers, Charge'd'Affairs of the U.S. Embassy, and President Panuelo.
Prior to his remarks proper, President Panuelo addressed the proverbial elephant in the room—the COVID-19 Pandemic—and the Nation's vaccination rate. Noting that, while Palau will reach an
adult vaccination rate of 70% by late April to early May, the FSM is currently at approximately 13%; thus, President Panuelo suggested, the Nation will be simultaneously requesting additional Johnson & Johnson vaccines from the U.S. for remote communities and islands, and may decide to tie citizens' receipt of financial stimulus programming for low-income and elderly citizens with documentary evidence that said citizens have received their COVID-19 vaccine.
"If we mandate children to take certain vaccines before going to school for their safety and our Nation's safety, it behooves our Nation's adults to do the same before getting their financial stimulus," President Panuelo said.