Coastal communities in FSM to benefit from new project on Fish Aggregating Devices and seas safety
Details

Category: News
Published: Thursday, 08 April 2021 04:56
Written by Bill Jaynes
Hits: 435
March 31, 2021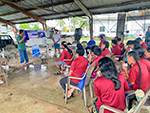 Pohnpei – A new project aiming to increase community awareness of Fish Aggregating Devices (FADs) and sea safety in FSM has been launched this week. The project is a partnership between the Pacific Community (SPC), and the National Oceanic Resource Management Authority (NORMA), with support from Pohnpei State Office of Fisheries and Aquaculture (OFA) and the FSM Department of Resources and Development – Division of Marine Resources (FSM R&D).
Jamel James from NORMA says, "This project is a great opportunity for fishers and the community of FSM to improve sea safety practices and build their knowledge and capacity in relation to the use of FADs in their waters".
FADs are used widely thoughout the Pacific to benefit local fishers when anchored inshore and industrial tuna fleets when drifting in offshore areas, but community and stakeholder awareness of the benefits, risks and issues related to FAD use is often low.
Recently around Pohnpei a number of FADs have been anchored close to shore to benefit local artisanal and recreational fishers. There are plans to expand these deployments to other locations, not only around Pohnpei, but also in the outer islands of Pohnpei.
"To really understand the benefits of these anchored FADs, what we really need is better data" says project co-investigator Naiten Bradley Phillip Jnr. "Data on what and how much people catch around the
anchored FADs would be really valuable, and through this project and the great support of the OFA we hope to start collecting it".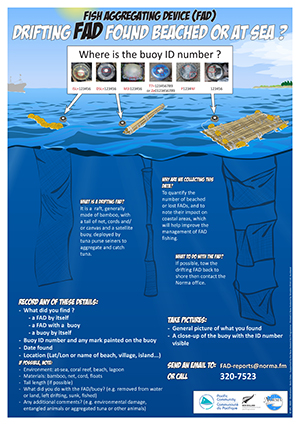 James Wichman, SPC's newly appointed FADs Focal Officer for FSM makes the point that, "We want people to benefit from using anchored FADs safely, so promoting and educating people on sea safety goes hand-in-hand with the development of an anchored FAD network in FSM. Improving sea safety practices and access to sea safety equipment is therefore a key part of this new project".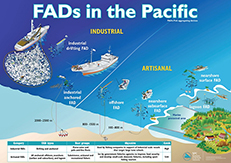 FSM is also experiencing the occurrence of drifting FADs washing up on their shores. Drifting FADs are used by the industrial tuna purse seine fleets in oceanic waters to attract tuna, especially skipjack, which they then catch with their large encircling nets. The industrial tuna fleets deploy thousands of drifting FADs in the Pacific each year. These drifting FADs are often made with large amounts of old fishing net and many now have electronic buoys attached that allow the vessels to locate the FADs at sea, and which even transmit information on the amount of tuna around the FAD.
Economic revenue from the industrial tuna fleets is incredibly important for many Pacific Island countries. However, a by-product of this benefit is that many of the drifting FADs are lost or abandoned and eventually wash onto island shores, potentially catching on the reefs and mangroves.
SPC lead scientist for this project, Lauriane Escalle, says "Although we are starting to get a better idea of how many drifting FADs are deployed each year in the region, we still don't have much data on how many are being beached or snag on reefs, and where this is occurring. We need this information to better understand how often drifting FADs beach, and the implications for local communities and habitats".
This new project will therefore also work with local communities and stakeholders throughout FSM, starting in Pohnpei, to collect data on the numbers and locations of beached drifting FADs.
For the coming months, awareness raising activities around this new project will be increased, especially through the work of the new FADs Focal Officer and staff from NORMA and the OFA. In the mean time if you come across a FAD washed up on your island or have FADs or FAD buoys you have collected from previous beaching events, please report these by contacting: SPC MRO 320 7523 or send an email to This email address is being protected from spambots. You need JavaScript enabled to view it.