World Water Day: IOM working with the community in Kapingamarangi to provide sustainable drought relief
Details

Category: News
Published: Thursday, 08 April 2021 05:02
Written by Bill Jaynes
Hits: 669
By: International Organization for Migration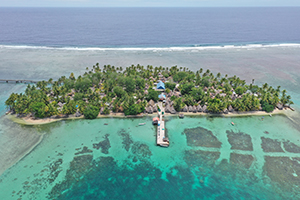 March 22 marks World Water Day — an annual UN day to raise awareness on the importance of freshwater. This year's theme is the value of water, which is about much more than its price. Water has enormous value for households, food, culture, health, education, economics and the environment. The value of water is especially important for the outer islands of Pohnpei.
Over the past several months, the community of Kapingamarangi has been threatened by water shortages due to prolonged periods without rain. As part of Pohnpei State's coordinated effort to support the community, IOM and USAID's Bureau for Humanitarian Assistance (USAID/BHA) will build a water catchment system consisting of eight 1,500-gallon water tanks. IOM is partnering with the Micronesia Conservation Trust (MCT), who will also build another water catchment system, also consisting of eight 1,500-gallon water tanks. The tanks are expected to meet the long-term water needs of the community.
The water catchment systems being built by IOM are funded by USAID/BHA through the Inclusive Mitigation and Preparedness in Action (IMPACT) project. IOM delivered the eight tanks (each with a capacity of 1,500 gallons) to Kapingamarangi on January 21, and the materials necessary for constructing the structure will follow. Chief Magistrate Edgar Lickaneth of Kapingamarangi highlighted that for his community, "Water is our lifeline, especially for us on a remote island where we depend on rainfall. We are so blessed with this generous donation and wish to extend our heartfelt thank you to IOM."
As a member of the Kapingamarangi Task Force, IOM had the opportunity to return to the island to conduct a follow-up visit. The visit took place from February 24 to March 1, during which IOM repaired the Reverse Osmosis Unit, capable of purifying 360 gallons of water per day, and trained eight community members on its maintenance. IOM also met directly with the community to discuss the hazards facing their community and identify their needs. Over 70 community members participated in the discussion, including women, youth and the elderly. The IMPACT project emphasizes inclusiveness in all its activities, as integrating the needs of all members of a community results in a more sustainable and effective project.
IOM is looking forward to working with its partners and the community at large to successfully implement the IMPACT project and to highlight the important value of water!