First Lady hosts a first time "Women of Tradition" gathering with traditional leader wives
Details

Category: News
Published: Thursday, 08 April 2021 05:05
Written by Bill Jaynes
Hits: 728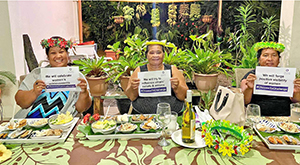 Pohnpei—International Women's Day events in Pohnpei were spread throughout Pohnpei at several different events over the course of a week. Organizers were unable to provide information on those events, but one event occurred for which we did receive information, a historic first meeting between a Pohnpei First Lady with the wives of the Nanmwahrkis and Isonahnkens of Pohnpei—a meeting between government and ladies of tradition, First Lady Patricia Edwin called it.
On March 8, Edwin held a dinner at her home hosting Likend Kelekel of Madolenimw, Merleen M. Hebel; Nahnperehleng Nahnalek Sokehs, Susana F. Kohler; Nahnalek Sapwuafik, Carlin A. Solomon. Representing Kesouwa of Pingelap Nancy N. Solomon was Sihna N. Lawrence who is also President of Lien-Alem of Pohnpei. Nahnkenieis, who are the wives of the Isonahnkens who attended were Nahnkeniei Madolenihmw, Piliana Adolph; Nahnkeniei Uh, Permina M. Joseph; Nahnkeniei Kitti, Justina Peter; and Nahnkeniei Nett, Ruth Iriarte.
Edwin said that during the dinner, she updated them with what's happening in government, especially with issues relating to women, children, and persons with disabilities. They discussed Pohnpei's vaccination rate and Asian Development Bank funding which will directly assist women. They discussed ways in which us mothers of wehi & traditional leaders can help stop the spread of COVID-19 in our communities when/if it does arrive on our shores, not just in our households but in our larger community as traditional leaders. Edwin also urged all the ladies to get vaccinated and to spread the word in their communities urging their people to get vaccinated as well.
Edwin said that under the theme #ChooseToChallenge, the women pledged to Celebrate Women's Achievements, influence others' beliefs and actions, and to forge positive visibility of women.