Pohnpei celebrates World Forest Day
Details

Category: News
Published: Thursday, 08 April 2021 05:10
Written by Bill Jaynes
Hits: 1441
By Conservation Society of Pohnpei
March 22, 2021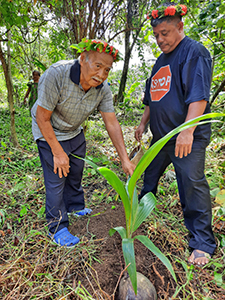 Pohnpei—Every time we drink a class of water, write in a notebook, take medicine for a fever or shelter in the safety of our homes, we sometimes miss the connection we have living harmoniously and comfortably with the forests. Forest sustainable management and their use of resources are key to combating climate change and to contributing to the prosperity and well-being of current and future generations. Forests also play a crucial role in poverty alleviation and in the achievement of the Sustainable Development Goals (SDG). However, despite all of these priceless ecological, economic, social and health benefits, deforestation continues at an alarming rate in most countries including Pohnpei.
On March 22, 2021, Pohnpei joined the world in celebrating International Day of Forests. The theme for this year's event is "Forest Restoration: a path to recovery and well-being". The event was hosted by the Department of Resources and Development (R&D), in partnership with Invasive Species Taskforce of Pohnpei (iSTOP), Island Food Community of Pohnpei (IFCP) and Micronesia Conservation Trust (MCT).
The program started with a small ceremony that included a presentation from iSTOP. Pohnpei has been known as the garden island of Micronesia. Unfortunately, we have lost most of our native forest due to destructive farming practices over the years. As a result, we are seeing an increase in invasive weeds and plants that may cause ecological and economic nightmares if not managed or controlled. iSTOP presented a list of invasive weeds and plants that exist in Pohnpei, along with their plans to control and eradicate them. iSTOP continues to seek community involvement in controlling the invasive species that disrupt the balance to Pohnpei's forest ecosystem.
Following the iSTOP presentation was the keynote address delivered by the Executive Director of MCT, Mr. William Kostka. In his address, Mr. Kostka highlighted the need to strengthen management capacity to Pohnpei's farmers. Pohnpei's traditional farming practice, also known as agroforestry, is now being recommended globally to address deforestation.
Following the short ceremony, all participants proceeded to the farm to plant a few coconuts to commemorate the event. After planting, everyone then reconvened at the station to collect plant seedlings. A total of 119 seedlings were provided by the Division of Natural Resource Management including soursop, papaya, avocado, tamarine, lime, cinnamon/madeu, coffee, mountain apple, banana and coconuts and were distributed to all participants to take back and grow in their respective lands.
We look forward to the next international day of forests and hope to see more farmers joining this important event.