Japan Government provides funding for Pohnpei Port security
Details

Category: News
Published: Thursday, 08 April 2021 05:27
Written by Bill Jaynes
Hits: 1412
By Bill Jaynes
The Kaselehlie Press
March 19, 2021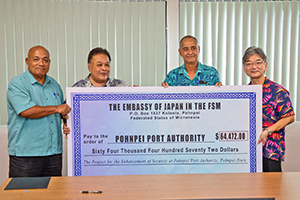 Pohnpei—On Friday, March 19, Ambassador of Japan to the FSM Sobashima Hidenobu met with Governor Reed Oliver and members of the Pohnpei Port Authority administration and board to formally sign the paperwork for a grant to enhance security at the Pohnpei Port. The grant amount is $64,472.
During his speech, Ambassador Sobashima described the project that the government of Japan had decided to fund. He said that Pohnpei Port is the main gateway of the FSM and is an important venue for business activities with huge inflows and outflows of people and goods. He said that because of that it is susceptible to various possible crimes including smuggling and human trafficking.
To address that problem, the Pohnpei Port Authority formulated a proposal to construct a traffic monitoring facility equipped with gates, exclusive lanes and sign boards as well as sets of security cameras on the causeway to the port. The Port solicited a grant from the government of Japan to finance construction of the facility except for the gates which will be constructed by Pohnpei Port Authority with its own financial resources. The government of Japan responded positively to the grant request.
"In conclusion, I hope that this project will proceed smoothly and will improve the security and safety of Pohnpei Port and Pohnpei State, benefitting its population of about 36,000 people, and thus will contribute to the AOI (a cooperation between Japan and Pacific Island Countries for a future that is Active, Opportunity-filled, and Innovative) future of the Federated States of Micronesia," he said.