FSM fuel prices to rise in line with regional increases
Details

Category: News
Published: Wednesday, 28 April 2021 21:48
Written by Bill Jaynes
Hits: 24028
Vital FSM Petrocorp
April 5, 2021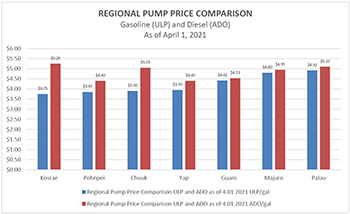 Pohnpei, Federated States of Micronesia - The Vital FSM Petroleum Corporation (FSMPC) wishes to inform our valued customers of an upcoming increase in wholesale prices to the following fuel products: diesel (ADO), unleaded gasoline (ULP) and dual purpose kerosene (DPK). As advised in previous months, regional and international prices have been on an upward trend since April 2020. In the last four months alone, the price per barrel of unleaded gasoline rose from $49.74 to $70.48 (see Figure 1).
Customers are advised that the impending increase of $0.15 per gallon becomes effective Monday, April 12, and, depending on trends in the regional and international market, may be followed by similarly sized increases in the months of May and June.
This will be the first increase to FSMPC's wholesale prices in 30 months, with the last price increase effective on October 10, 2018. The last price movements were two reductions in 2020, when FSMPC reduced ADO, ULP and DPK wholesale prices—first, on April 21 with a decrease of twenty-five cents per gallon (25cpg), and second, on May 21 with a decrease of fifteen cents per gallon (15cpg). Since then, retail prices across the four states of the FSM have experienced a steady downwards trend, with prices lowering from the national average of $4.38/gal in April 2020 to the current national average of about $3.91/gal.
Customers were advised in FSMPC Press Statement 2-2021 dated February 26, 2021 of the possibility of a price increase in oncoming months. In neighboring Micronesian islands, the pump price of unleaded gasoline are now as high as $4.42 per gallon in Guam, $4.80 per gallon in the Marshall Islands, and $4.92 per gallon in Palau. Kosrae maintains the lowest pump prices throughout the greater Micronesian region at $3.75 per gallon.
FSMPC Chief Financial Officer (CFO) Mr. Johnny Adolph explained: "We have absorbed price increases for the last six months; unfortunately, during that time, international prices have risen and continue to rise for the various fuel products. Following the scheduled increases in the oncoming months, we will remain well within the benchmark of +$0.25 of Guam's pump prices." CFO Adolph concluded, "We continue to feel the impact of COVID-19 on our business, and are unable to cushion price increases as much as we used to."