Grant contract signed for the project for construction of security fence for Gagil Elementary School, Yap State
Details

Category: News
Published: Monday, 30 November -0001 00:00
Written by Bill Jaynes
Hits: 21512
Embassy of Japan in FSM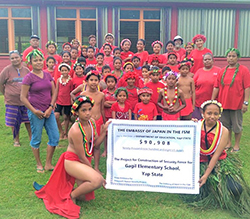 On March 16, 2021, the Grant Contract Signing was concluded for The Project for Construction of Security Fence for Gagil Elementary School, Yap State between H.E. Sobashima Hidenobu, Ambassador of Japan to the Federated States of Micronesia and the Hon. Henry S. Falan, Governor of Yap State. The project will provide the Department of Education, Yap State with the funds up to US$90,908 under the Grant Assistance for Grassroots Human Security Projects by the Government of Japan.
For a long time, Gagil Elementary School has suffered from the intruders who broke into the School's facilities and animals such as dogs and pigs damaged the crops in the School's garden. This is dangerous because the excretas of the animals can cause infectious diseases for people.
This project aims to provide a secure and healthy education environment for the students and teachers of Gagil Elementary School, by building security fences surrounding the School to protect the School's property against vandalism and prevent the spread of infectious diseases from the animals.
After the building of the security fences, Gagil Elementary School is expected to provide a secure and healthy education environment for all students and teachers, including the environmental education activities in the School's garden without any risk of infectious diseases.