Rotary Clubs of Hilo, Hawai'i donate school supplies to classroom in Chuuk
Details

Category: News
Published: Monday, 30 November -0001 00:00
Written by Bill Jaynes
Hits: 21000
Rotary Clubs of Hilo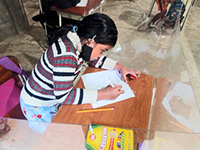 The global pandemic has made the past year difficult for schools, teachers, and students for a host of reasons. In Chuuk, teacher Ankiambom Chia stepped in to cover third and seventh grade classes due to teacher shortages at her charter school on the island of Weno in Chuuk State. Rotary Club members, Tim Hansen of Rotary Club Hilo Bay and Charlene Iboshi of Rotary Club South Hilo heard about Chia's school and her work with students. Hansen mobilised his local Rotary club members and they worked together to donate new school supplies and classroom materials.
When 23 flat rate boxes of donated school supplies as well as a box containing 50 calculators came in, Chia, got a call from the local post office letting her know the boxes had arrived. In the days following, her students who attend the charter school, Akoyikoyi Elementary in Chuuk, helped to open boxes full of school supplies.
Rotary Clubs gather leaders in communities across the globe who promote and advance understanding, goodwill, and peace worldwide as part of their mission. Chia reflected that having the donation has been helpful in a time when supply chains have been under stress and has been an uplifting gesture of Pacific solidarity.
For more information about Rotary in Hawaiʻi go to https://rotaryd5000.org/
To learn more about Akoyikoyi School in Chuuk visit: http://www.ship-hoops.org/akoyikoyi-school/