Doone the big winner of Tuna Commission and CFC fishing tournament
Details

Category: Sports
Published: Monday, 30 November -0001 00:00
Written by Bill Jaynes
Hits: 39455
By Pohnpei Fishing Club
March 27, 2021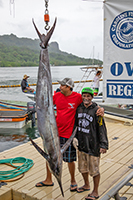 Pohnpei—After a tough year for Pohnpei Fishing Club tournaments due to COVID-19 complications, the 2021 fishing year began in earnest for the Club with the Western and Central Pacific Fisheries Commission/Caroline Fisheries Corporation Tournament. It was the first tournament of the year.
We had a fine day for the most part. A little rain hit at the end, but that was just to cool everyone off. The seas were a little bumpy, but not like January or February which was really rough this year.
The good thing was the fish were biting, and we had some very good catches.
There was a variety of fish brought in. Our first marlin of the year was the winner, and there was also a nice size sailfish, a couple of big yellow fin and some nice dog tooth tuna. The wahoo are still biting and it looks like the mahi mahi are finally back.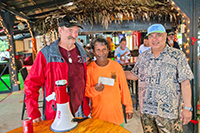 Killian Doone on Poahwaohwoa was the grand prize winner of $700 in the big fish category for his 193.4 pound marlin. Wilmar Aquino on Happy Hookers took the $500 second prize with a 68 pound sailfish. Close behind was Lara Trott, with a 67.5 pound dog tooth tuna. For that fish she won the third prize of $350, but Trott also caught another big dog tooth tuna of 57 pounds which won her the $100 prize for top lady angler.
$150 prizes were also awarded to anglers with the biggest fish in each species. Jimmy Barnabas won the top prize in that category for his 66.5 yellow fin. Shambhu Prasad caught a 28.5 wahoo for top prize in that species. John Hedson won the prize for barracuda at 18.5 pounds. Jody Robey caught a nice 22 pound mahi mahi for the $150 prize for that species. Marcela Hawley landed a fat 17.5 skipjack for the top prize in that category.
Dave Spencer, fishing aboard Dolphin, won the junior angler prize of $100 for a 10 pound yellowfin.
The weigh in had a nice if somewhat wet and rowdy crowd. 18 boats registered for the tourney and it was a good start to the season.
No one caught the marlin jackpot. It is now $7,700.00 to beat the club record of 450 pounds.
Lara Trott donated an EPIRB to be raffled off to small boat owners who didn't already own one. Kevin Ihara, Jr. won that raffle for the boat "Young Blood". The club supports safety and wants to encourage every boat operator to get an EPIRB.
Thanks again to the Western & Central Pacific Fisheries Commission and Caroline Fisheries Corporation. We appreciate the sponsorship and the support.