Japan government provides $3.7 million for FSM Fisheries and Maritime Institute
Details

Category: News
Published: Monday, 30 November -0001 00:00
Written by Bill Jaynes
Hits: 33162
By Bill Jaynes
The Kaselehlie Press
April 8, 2021
Palikir, Pohnpei—This afternoon, Ambassador of Japan to the FSM Sobashima Hidenobu met with FSM Secretary for Foreign Affairs Kandhi Elieisar to officially sign paperwork to turn over a $3.7 million grant to be used for capacity building at the FSM Fisheries and Maritime Institute.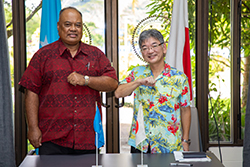 The FSM Fisheries and Maritime Institute (FMI) is located in Yap and operated by the College of Micronesia FSM. It offers majors in Navigation, Marine Engineering, and Fishing Technology.
Ambassador Sobashima said that FMI has been hampered in its ability to conduct field training due to lack of necessary equipment. He said that the grant would be used for construction of additional classrooms and dormitory rooms, and also rigid-hull inflatable boats and a training ship.
"After the construction of the facilities and the provision of the equipment are completed, the number of the students of the Institute is expected to increase by 30 to 90, and the Institute will be able to conduce field training using the provided training ship and boats, which will pave the way for strengthening the FSM's maritime transportation and security capabilities, deterring illegal fishing and human trafficking, among other possible problems," Ambassador Hidenobu said. "Thus it will develop the FSM's foundations for resilient and sustainable development, contributing to the promotion of the Free and Open Indo-Pacific."
"Fisheries and Maritime Institute is the only institution for the education of maritime matters in the FSM, with its reputation and expectation widely felt not only throughout the FSM, but also in Palau, and the Marshall Islands, in the Micronesian region," he said.
Secretary Elieisar thanked the Japanese government through its Ambassador for providing the essential grant. He also commended College of Micronesia FSM Interim President, Karen Simion, who was present at the ceremony, with the support of the FSM Department of Education for their foresight in applying for and securing the grant.
"FMI has potential to grow into an important learning institution of varied specialized disciplines," Secretary Elieisar said, "churning out citizens with expertise in modern navigation techniques including celestial navigation, in engineering, and so forth that could help ensure the vast maritime domain that we have in apprehending IUUs (Illegal, Unreported, and Unregulated fishing vessels), and other violations of our waters."
"Who knows," he said, "maybe one of FMI's students will develop robots that swim in the ocean gathering data, or an algorithm that detects IUUs."
"Indeed, FMI is the only maritime institution, one of its kind in vocational learning in our country…and I cannot overemphasize the importance of FSM in the development and security of the maritime domain of the FSM, and in affording invaluable technical skills and knowledge to our citizens for employment opportunities, particularly in our fisheries sector, which is the number one priority sector of our country," Secretary Elieisar said.