Pohnpei Tennis Club junior members square off for Saipan championship
Details

Category: Sports
Published: Friday, 29 January 2016 14:37
Written by TJ Rush Apis
Hits: 3282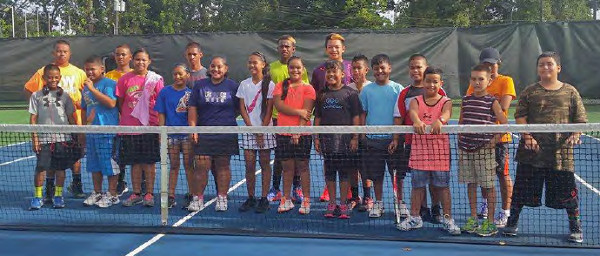 TJ Rush Apis - 18 JAN 2016
This week Pohnpei Tennis Club hosted a successful qualifying tournament where junior tennis players from Pohnpei and Kosrae battled it out on the court to see who will fly the FSM flag in the North Pacific Regional Championship to be held in Saipan in June 2016.
The qualifying event in Pohnpei started off with a high note where Kosrae's number 1 seed JR notched his first win against Deavin Etscheit of Pohnpei 6-0, 6-1. JR went on winning all his matches and was crowned the 12 and under champion. Jones of Kosrae settled with second place beating Deavin 6-4, 6-1, JT 6-0, 6-1, Nathan 6-0,6-0,
Jeremiah 6-0, 6-0, Israel 6-0, 6-0, and Kigo 6-1, 6-1. Deavyn placed at number 3 and Kigo placed at number 4 after making a few upsets being the number 8 in the tournament.
In the 14 and under girls, Anne Skilling of Kosrae stunned number 1 seeded Isabel of Pohnpei creating the biggest upset of the tournament. Isabel went down to Anne losing the first set 6-2, she pushed herself to grab the second set but Anne proved too strong and quick taking the final set in a super tiebreaker 10-4.
In the 16 and under boys category, Joab Williams of Kosrae took out 1st place while his fellow teammate Sterkis Abraham settle for runner up. Andrea Perillo of Pohnpei took out 3rd beating Weston of Kosrae. The 16 and under girls had only 2 competitors, sunshine Palik from Pohnpei and Chriselda of Kosrae. Sunshine went on to take the win 6-0, 6-2.