83 year old magician from Japan has performed in 94 countries before the FSM
Details

Category: News
Published: Tuesday, 17 May 2016 08:18
Written by Bill Jaynes
Hits: 1916
By Bill Jaynes
The Kaselehlie Press
April 27, 2016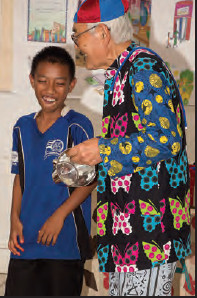 Pohnpei, FSM—Amateur magician Max Watanabe from Japan is 83 years old but still going strong. Some time ago he set a personal goal to perform his magic in 80 countries. His performances in Pohnpei this week marked his 95th country. He has well exceeded his goal and if this afternoon's final performance at the Pohnpei Public Library was any indication, he has "wowed" children in every country with his feats of legerdemain. Watanabe performed twice at the Pohnpei Public Library. Today's performance was his last there and the best attended at the library. After each trick, the standing room only crowd of children who had waited patiently outside the door while he prepared for his show, gasped at what they had just seen as he pulled quarters from their ears, made water turnturned water into confetti, scarves into a hat, and made balls and other objects appear to jump from his hand to the hand of a volunteer.
Watanabe performed at the State Hospital and at the elementary schools in Kolonia.
Japan's Ambassador Masaki Sakai attended Watanabe's performance at the library. He was surrounded by children who were enthralled with the show.