Pohnpeians protest sea cucumber harvest
Details

Category: News
Published: Wednesday, 18 May 2016 14:03
Written by Bill Jaynes
Hits: 5270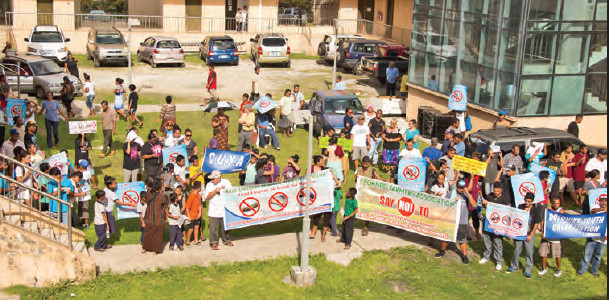 By Bill Jaynes
The Kaselehlie Press
May 13, 2016
Pohnpei, FSM—A foreign investment permit issued to a Chinese company, Young Sun International Trading Company, to harvest sea cucumbers in Pohnpei has sparked cries of outrage from some of the people of Pohnpei. Last Wednesday a small group of about 100 protestors marched on the Pohnpei Government complex carrying signs, and voicing their opposition to the plan to harvest and export sea cucumbers from Pohnpei's waters led by the Isonahnken of Nett, Salvador Iriarte.
According the Pohnpei's Chief of Staff, Joe Saimon, Young Sun's export proposal for the sea cucumber harvest was selected by a five member committee that included a College of Micronesia-FSM marine scientist. They have a permit for a year. Pohnpei's Office of Fisheries and Aquaculture (OFA) says that during that year Young Sun can harvest for a maximum total of 14 days but only up to 12% (67 tons) of the population of the types of sea cucumbers that have been authorized for harvest and export. OFA says they have not authorized harvest of the types of sea cucumbers that Pohnpeians eat. The company can use as many as 3500 people to harvest the sea cucumbers each of whom must be registered and will have strict daily quotas.

Wescott Panuelo who organized Wednesday's protest had hoped that many more people would participate in the march but word about the event went out mainly on Facebook and many people who said they would have liked to have participated in it didn't hear about it until it was over. When the protesters arrived at the government building, Governor Peterson was not on the premises. During the demonstration, Chief of Staff Joseph Saimon said that the government supports the rights of people to voice their concern but that gatherings of the type that were going on in the courtyard were by law required to be announced. He said the State Government knew nothing about it.
Another protest march is planned for this afternoon from the Nett Municipal government to the facility in Nett where the sea cucumbers would be harvested. Panuelo says he won't rest until they put a stop to the harvest.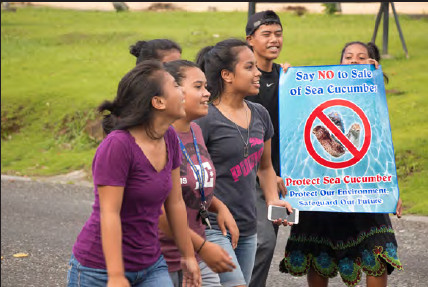 There is high emotion for members of both sides of the issue. Sea Cucumbers serve a vital role in the marine ecosystem and their presence serves to keep the sea water clean and therefore reefs healthy.
The government needs to establish money making opportunities for its people and for its own operations especially in light of the declining annual contributions from the Compact of Free Association with the United States.
Protesters want to completely ban any sea cucumber harvest in the wild while supporters say that the study conducted by the Secretariat of the Pacific Community and Pohnpei's Office of Fisheries and Aquaculture showed a level of harvest that would be sustainable.
Protesters say that the plan isn't actually a plan and is flawed, and if not flawed then, according to experts to whom they say they showed the plan, at least insufficient to serve as an implementation plan for a sea cucumber harvest. Further they claim that a very recent survey shows sea cucumber populations to be down.
Chief of Staff Saimon says that OFA and the Legislature held public hearings and submitted legislation to the NGOs for comment and that not one of them ever did. "Now that it's a law they want to call in the traditional leaders and emotionalize the issue. But if they can do that where is the rule of law in Pohnpei?"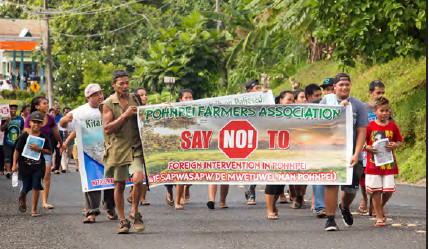 "The NGOs have no problems with the laws and regulations governing the sustainable harvest of sea-cucumbers," wrote Willy Kostka of the Micronesia Conservation Trust. "However, the law calls for the establishment of a Sustainable Sea-Cucumber Management Plan prior to any harvest activities taking place. As far as we are concerned, that document does not exist and this is our problem with the harvest moving forward as planned - the document they have is simply a recommendation of what can and should be done to sustainably manage and harvest sea-cucumbers which was provided to them by SPC. We have provided that so called 'management plan' to scientists at the University of Hawaii, University of Guam and the College of Micronesia - FSM and they've all come back to say that the "plan" is insufficient."
"...We feel that Pohnpei State in its current financial and human resources capacity, does not have the ability to manage 3,500 people out on the reefs collecting sea-cucumbers for 6 days - the state has 8 conservation officers and 1 boat. There are 11 marine protected areas and a few additional trochus sanctuaries that they say will be closed to the harvest. How is it going to be possible for 8 conservation officers to manage 11+ protected areas and 3,500 on the reefs for over a six day period? They say that they will deputize more state employees so that they can help enforce the protected areas and manage the activities of 3,500 people on the reefs. When we asked about the details about this, they do not have one on paper. We are asking the state to think harder about this and to put a comprehensive plan that identifies in writing all the right pieces before this harvest takes place," Kostka wrote.
OFA says that they do have an enforcement plan that has now been set down in writing and was developed by multiple agencies.
Kostka says that there has not been one single example of a sustainable harvest in our region, not in Palau, Chuuk, Yap, Kosrae or the Marshalls.
Chief Saimon says that they are aware of what caused the failures in those other areas and have built in safeguards against them.
Part of the difficulty that opponents of the plan are having is that their questions have just never been answered. Kostka, Ricky Carl of The Nature Conservancy, and Eugene Joseph of the Conservation of Society of Pohnpei jointly wrote a lengthy letter to the governor several weeks ago but have yet to receive a reply to it.
Kostka wrote that the letter contained several questions, two of which were quite straightforward:
"1. In the company's application to OFA, they marked that they are a domestic company (the choices are domestic, regional and international). We have asked who their local partner is and why this company marked that they are domestic and have yet to receive an answer for this; and,
"2. In their bid proposal, they stated that they are so confident in the ability to carry out the project that they had mobilized over $100,000 worth of assets to Pohnpei. Who mobilizes this amount of equipment prior to being awarded a bid? Especially when there was one other bidder?"
"We had several other questions we posed to the state (in a letter to the Governor) that were not responded to and we are still waiting on their response in writing so we know how best to support the state develop a comprehensive sea-cucumber management and harvest plan," Kostka concluded.
Some of the protesters carried signs saying "No foreign intervention in Pohnpei". A bystander who is extremely active in the conservation community said that sign probably most accurately described what likely bothered a good number of the protesters most.
That bystander also said they could not agree with a total ban on sea cucumber harvests because there are ways to handle it sustainably.
While it is true that the harvests in the region have been abysmally managed, Vanuatu has had a sustainable sea cucumber harvest for many years. Vanuatu only last year put in place what they called a "proper fishery management plan" according to the Vanuatu Daily Post.
"It is clear we need to work to provide sustainable jobs for the people of Pohnpei," wrote Simon Ellis Executive Director or MERIP, an NGO whose goal is to develop sustainable and economically advantageous aquaculture. "The proposed sea cucumber fishery will provide only short term work and gains for a few people and when it is over the marine environment will be left impacted. This fishery is not sustainable in the long-term, is not good for the environment, and is not good for the people of Pohnpei."