FSM's Jasmine Mendiola wins top art prize in "Tuna Day" competition
Details

Category: News
Published: Wednesday, 18 May 2016 14:20
Written by Bill Jaynes
Hits: 3412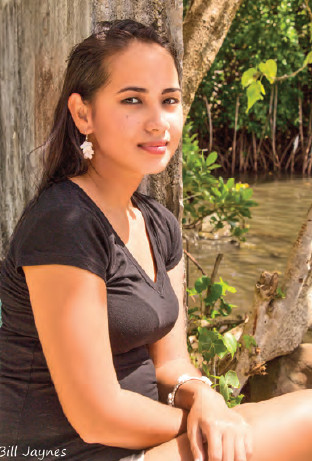 By Bill Jaynes
The Kaselehlie Press
May 2, 2016
Pohnpei, FSM—Today, on World Tuna Day, the Parties to the Nauru Agreement (PNA) Secretariat announced that the FSM's own Jasmine Mendiola had won the top prize for her poem entitled Teach Your Children.. Her poem was selected from entries received from citizens of the Federated States of Micronesia, Kiribati, Marshall Islands, Nauru, Palau, Papua New Guinea, Solomon Islands and Tuvalu.
In 2011, PNA Ministers declared May 2 to be World Tuna Day, a special day for all who are involved in tuna fishing and tuna conservation and management to celebrate the wonders of tuna with communities around the world. Since 2012, PNA has run the World Tuna Day Art and Talent Quest to profile the unique relationship local people have with tuna and its diverse artistic and cultural heritage.
The contest requested entries of poetry or short stories, pictures of artwork, short films or filmed music, dance or drama performances on the themes of Pacific Tuna in the wild, tuna and local cultures and lifestyles, Pacific ways of fishing for Tuna, or islanders working together to conserve and manage tuna.
Mendiola's poem brilliantly touched on every single one of the topics in a heart touching way. She won the top prize of $3000 for her work.
Mendiola has long been what some might call an over-achiever. She was Salutatorian of her Elementary School class at Pohnpei Seventh Day Adventist School, Valedictorian of PICS High School, and twice, Valedictorian at the College of Micronesia where she studied Marine Sciences. After several prestigious internships she was selected as the Assistant Director of the Marine and Environmental Research Institute of the Pacific (MERIP) in Pohnpei.
She says that she has had a conservation mindset since she was in High School when she worked as a volunteer with the Conservation Society of Pohnpei.
She certainly comes by it honestly. Her uncle was the great Dakio Paul, who many consider to be the father of FSM Marine Protected areas. In the 1990's, after facing government resistance, Paul declared Black Coral (Kehpara) to be closed to fishing, grabbed a shotgun and for three years patrolled the area in a small boat powered by a 15 horsepower motor, firing warning blasts when fishermen encroached on the waters. Before long, fishermen noticed an increase of fish in the area and the surrounding reefs and that changed everything.

"Even at 3:00 in the morning, if he saw even a flashlight he would go out and chase them away," Mendiola said.
Mendiola spent her summers and many of her weekends at Kehpara with her aunt and uncle. It's where she gained an interest in marine biology. "I'd go snorkeling and see things I hadn't seen before. I'd describe them to my uncle and he would tell me about them," she said.
Her poem touchingly describes the conservation lessons taught by elders and passed down from generation to generation—lessons that she says must continue to be passed down.
She said that she didn't think that she won the prize "because of skillful writing or anything else. I think it was because it had a purpose, a message to tell the world, or at least to those who read it."
She admits that when she heard about the contest she was interested in submitting something but that everyday life got in the way. She finally sat down to start writing on the night before the submission was due but lost what she had written and wrote it on the final day. She said that a song by Te Vaka that features an English language narrative in the middle of the song about the value of saving creatures even if that effort doesn't make any money inspired her deeply.
"I knew this was my chance to try to make some impact, maybe to at least get people to think about conservation and change their perspective on it, and hopefully become a small 'call to action' thing. So when I decided on the theme, I knew my entry would be one with a purpose," she said.
"I hope that the poem will remind us of the value of our natural resources and how they have been a part of us, especially as islanders, and how they should remain a part of us and our children, and our children's children, and so on," she wrote. "Many of our natural resources will be lost if they are not well-managed, so it's crucial that we remember that prevention is always better than recovery. Also, I pray the poem is strong enough to remind us the importance of what we teach our children, from skills, to values, to morals, all of it. What we teach them when they're young will most likely stick with them when they're older. I personally know that from experience, from my father (Francisco Weilbacher Mendiola) and my mother (Emirose Anson Elanzo). The best way to teach someone is to teach by example, not just by word."
She says that more than anything she has been humbled that her message has been so well accepted by so many and that it seems to be having an impact.
PNA announced that runners-up prizes ($500 each) for the contest were awarded to Tiarite Kwong of Kiribati for the artwork "Pacific ways of fishing" depicting traditional Kiribati fishing methods for tuna and Schneider Yasi of Papua New Guinea for the literary poem "Marrow in Your Bones" which touches on themes of tuna in local cultures, conservation and health.
PNA also announced that due to the high quality of entries this year, Special Mention prizes of $400 each were also awarded to two entries from Solomon Islands - portrait artist Brian Feni for his painting "Tuna and local cultures" and James Tuita for his poem "Pacific Tuna in the Wild".
Look for PNA news including future contests and award winning entries at www.pnatuna.com.
Teach Your Children
by Jasmine Mendiola