China hands over a new garbage truck to the people of Madolenihmw
Details

Category: News
Published: Wednesday, 18 May 2016 14:38
Written by Bill Jaynes
Hits: 1748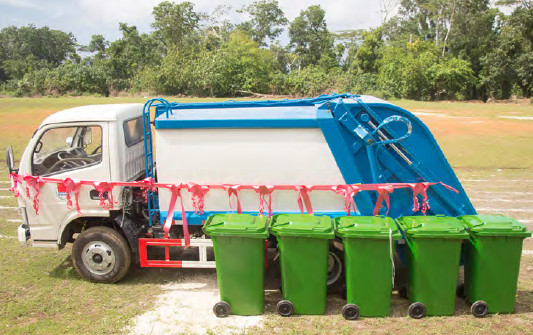 By Bill Jaynes
The Kaselehlie Press
May 9, 2016
Pohnpei, FSM—This morning in Pohnlangas, Madolenihmw, Ambassador Li Jie, Ambassador of the People's Republic of China handed over a new garbage truck and other supplies to the Nanmwariki of Madolenihmw for use by the government of Madolenihmw.
Ambassador Li said that Mayor Petrick Ringlen did extraordinary work by researching the types of garbage trucks that would be appropriate for their use and that during his research he found that the best type of vehicle was made in China.
It is a small vehicle that is suitable to the roads in Pohnpei. Of the main island municipalities, Madolenihmw is the farthest from Dekehtik which is where the landfill is located, a one way trip of approximately 40 kilometers. The compacted storage capacity of the truck needed to be large enough to avoid having to travel to Dekehtik too often but small enough to be able to negotiate the small roads as well.
The total cost of the PRC provided project was $21,000 and included several garbage storage containers, and also some solar lights.
Senator Shelten Neth presented an oftentimes humorous speech of "thanksgiving" to the people of China for their generous donation that would contribute to the health and environment of Madolenihmw.
Neth said that the Chinese Embassy had provided funds for the Madolenihmw Constitution Day and that most people who attended didn't know it.
He also used the opportunity to ask for more assistance. He said that if the Ambassador returned to China and told the people there that he had been to a basketball or a volleyball game that had been rained out they would think he was crazy. But those kinds of games are often rained out in Madolenihmw because they have no indoor facility. He hoped that China would be able to assist with a multi-purpose community center.
Neth also said that because of the distance to the hospital some people die while being transported in cars to the Pohnpei State Hospital. He hoped that China would be able to assist with an ambulance.
Ambassador Li said that he would keep the requests in mind and that China would consider helping within the bounds of its capabilities.
Wasa Lapalap Isipahu, Nanmwariki en Wein Madolenihmw also addressed the small crowd after which a small ribbon cutting ceremony was held.
Madolenihmw personnel demonstrated the trash compacting capability of the new garbage truck before the ceremony was concluded.