Sapwalap Elementary School gets $40,000 solar project
Details

Category: News
Published: Wednesday, 18 May 2016 14:41
Written by Bill Jaynes
Hits: 1879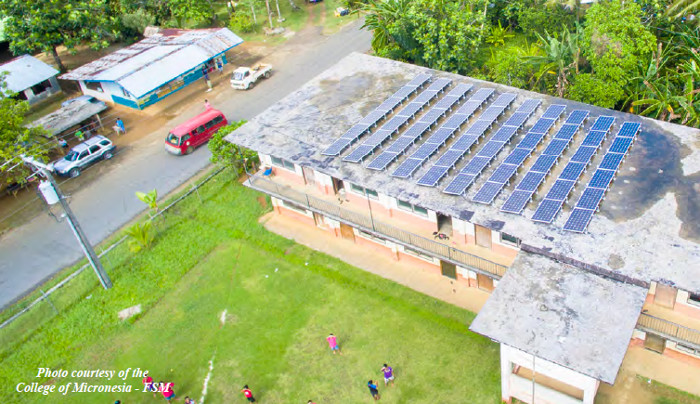 By Bill Jaynes
The Kaselehlie Press
May 7, 2016
Pohnpei, FSM—The children of the Sapwalap Elementary School are the beneficiaries of a new 15 kilowatt photovoltaic system (solar power). This morning the Rotary Club of Pohnpei, Rotary International and representatives of the Yaminote West Rotary Clubs of District 2750 handed the $40,000 system over to the school. Mahi International was a partner in the project as well and provided about 20 hours of health, sanitation, and hygiene education to the students along with hundreds of bars of soap and other items.
John Schroer explained that the project really wasn't necessarily about the solar panel project but was about health and hygiene.
When new classrooms were built at the school under the Compact of Free Association with the United States they also provided a large water catchment system. Unfortunately, that catchment system was below the level of the bathrooms so the water from the tank had to be pumped to the bathrooms with an electric pump. Most often there was not enough money to pay for cash power to run the pump and the restrooms remained dry.

Principal Anson Abram told the audience that the school was using an average of 100 kW of power per day, well beyond what their budget could support. He said that they are now using roughly half that amount.
The system is grid linked, meaning that there are no batteries. The power the system generates that the school does not use goes back into PUC's power grid.
Governor Marcelo Peterson thanked the Rotary Clubs and Mahi International for the special project and along with Iso Nahnken John Adolph and Pohnpei Rotary Club President Melner Isaac, cut the ceremonial ribbon signifying the turnover of the project.
The Yaminote West Rotary Clubs of District 2750 in Tokyo raised $20,000 for the project and Rotary International matched that amount based on a request from the Rotary Club of Pohnpei.
Mr. Otomo Takashi, and Mr. Taneichi from the Rotary Club of Tokyo Setegaya traveled to Pohnpei to attend the ceremony.