Pohnpei's Liberation Day Games complete
Details

Category: Sports
Published: Sunday, 04 October 2015 08:31
Written by Ryan Eliwise
Hits: 2771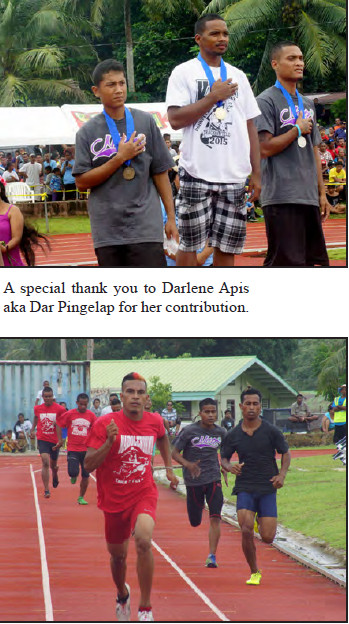 By Ryan Eliwise
Pohnpei Sport Commission Office
September 21, 2015
On September 11, 2015, Pohnpei converged on the newly installed red carpet in Dolonier, Nett to commemorate the 36th Pohnpei Liberation Day. This special day is a historic moment accepted and honored by the traditional kingdoms of the entirety of Pohnpei to respect and be thankful for the gaining back of our indigenous rights and liberty from the harsh administration of Japan Armed Forces during World War II.
The day was filled with joy and excitement through the facilitation of different athletic events. There was a bustle of business activities on all borders of the field. Also, there were loud tunes and amusing actions constantly coming in from everywhere gesturing joy and happiness. Merchants and entertainers of every type wanted to make sure they had a good location to generate money. Businesses were selling their products at very reasonable prices as spectators enjoyed empting their pockets on the low-priced foodstuffs.
The day started out with a short formal program which was followed by the athletic events. There were eleven local municipalities happily competing in these different events. Some of them participated in all them while others participated in just a few.
Awards were given in the form of medals and trophies which made it easier to tally the number of gold, silver and bronze that each respective municipality had garnered.
The table below should simply provide facts and clear information on the overall metal tally for the municipalities that participated in this year's Liberation Day games.