Japan's popular couple Ambassador and Mrs. Sakai depart FSM
Details

Category: News
Published: Thursday, 09 June 2016 08:21
Written by Bill Jaynes
Hits: 2257
By Bill Jaynes
The Kaselehlie Press
May 26, 2016
Pohnpei, FSM—Japan's extraordinarily popular Ambassador to the Federated States of Micronesia Masaki Sakai and his equally popular wife, Nobuko left Pohnpei today for Tokyo where Ambassador Sakai will return to work in the fisheries ministry.
In honor of the couple the Pohnpei Port Authority created a large banner wishing them well on their departure and the ARFF Strikers (fire trucks) gave tribute with jets of water arching over the taxiing plane carrying them.
During his two years in the FSM, Ambassador Sakai constantly extolled the kizuna, the Japanese word for "bonds of friendship" between Japan and the FSM.
As plenipotentiary representative of Japan's government, Ambassador Sakai and his excellent staff members coordinated dozens of Japanese aid projects throughout the FSM from donations of heavy equipment, recycling equipment, waste management projects, right through to the new multi-purpose gymnasium that sees nearly constant use in Sekere, Pohnpei.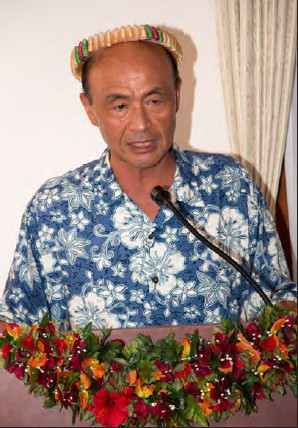 Deputy Chief of Mission Shingo Higashimoto said that it was stirring to see the number of people who came to see the Sakais off at the airport.
On Thursday May 19, Ambassador and Mrs. Sakai held a farewell reception at their official residence in Nanpohnmal. He invited a small group of friends and dignitaries. Secretary for Foreign Affairs Lorin Robert wished them well and thanked the Ambassador for the obvious bonds of friendship as displayed, not only in the many aid projects but in all of the relationships the Sakais had with the people of the FSM.
Ambassador Sakai is an avid sportsman and last week the badminton club in Sekere, Sokehs also held a farewell party in his honor.
Ambassador Sakai's successor Mr. Horie will arrive on June 10 to fill some mighty big shoes.