United Arab Emirates supplies 600 KW solar farm to Pohnpei Utilities Corporation
Details

Category: News
Published: Thursday, 09 June 2016 08:54
Written by Bill Jaynes
Hits: 3317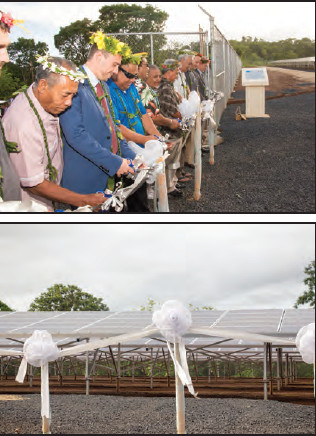 By Bill Jaynes
The Kaselehlie Press
May 14, 2015
Pohnlangas, Pohnpei, FSM—A solar power plant in Pohnlangas, Madolenihmw, funded by the United Arab Emirates (UAE) through its Pacific Partnership Program was officially handed over to Pohnpei Utilities Corporation (PUC) today. The 600 kilowatt solar farm in Pohnlangas takes PUC one step closer to its goal of 100 percent renewable energy for power generation with diesel generators serving only as back up.
PUC Board Chairman Trevayne Esiel said during his speech that the solar power plant will mean a reduction of CO2 emissions of approximately two million pounds.
PUC has vision to be a "zero CO2 emission cooperative utility", Esiel said.
"PUC already has in place a 170 KW and 200 KW solar grid connected at the College of Micronesia and Nett Elementary School respectively. We have a 170KW hydro plant (funded by the European Union) and now with our newly built 600KW Solar Farm Project that fits into PUC's future plans", Esiel said during his speech at the handover event. The addition of the Pohnlangas plant means that PUC has 1.14 MW of renewable energy power feeding into its grid when the renewable energy sources are able to generate power.
The United Arab Emirates provided $2.2 million dollars for the building of the new plant. Pohnlangas generously provided 100 acres of land to provide the space for the newly dedicated project and for future renewable energy projects that may include wind powered turbines at no cost to PUC for 50 years under an MOU with Pohnpei State.

PUC provided $30,000 for the project.
The FSM Congress approved the UAE grant in April of 2015. The contractor, Vergnet SA and PUC signed a contract for the project in October of that year. Construction began in December of 2015 and the plant was formally completed by March of this year.
It was formally commissioned today.
PUC has set a five year goal to be a 100 percent renewable energy provided power source with diesel generators only to be used as backup. They want to have a 10 MW solar farm in place as well as a 10 MW hydro plant (water powered), and a 5 MW biomass plant. Esiel's speech didn't address how the biomass plant would address PUC's "zero CO2 emissions goal".
Istvan Ponsot, Vergnet's Head of Business Development for the Pacific Region attended the ceremony and spoke to attendees about Vergnet's role in delivering renewable solar solutions for the island.
MASDAR, Abu Dhabi's renewable energy company was appointed by the UAE to execute its renewable energy projects. The addition of the Pohnlangas photovoltaic (solar power) plant brings the total of UAE funded renewable energy project in the Pacific region to 6.5 MW across 11 Pacific Island nations.
Governor Marcelo Peterson addressed the crowd, thanking the government of the UAE for their generous contribution to Pohnpei's future.
Madolenihmw Iso Nahnken John Adolph also addressed the crowd and challenged FSM Secretary of Resources and Development, who represented FSM's President Peter Christian at the ceremony, to include PUC's infrastructure goals in future funding requests from the U.S. Compact of Free Association.
The inauguration of the 600kW solar photovoltaic plant marks the successful completion of Cycle 2 of US$50 million UAE-Pacific Partnership Fund.
Dignitaries participated in the ribbon cutting, after which a tour was provided. A group of dancers from Madolenihmw entertained the crowd after the ribbon cutting and while food was brought in for all of the participants.