Enimwahn Development Association receives planning grant from the UNDP GEF Small Grants Programme
Details

Category: News
Published: Thursday, 09 June 2016 09:03
Written by Kpress
Hits: 2228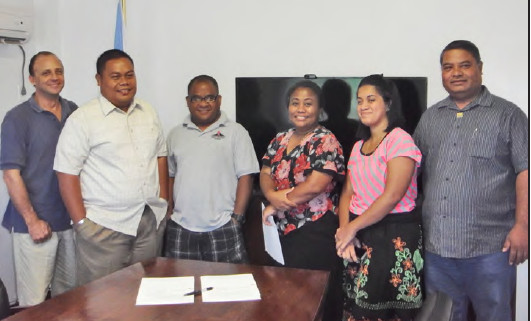 On Tuesday, May 24th, 2016, the President of the Enimwahn Development Association (EDA), Mr. Stuard Penias, signed an MOA with the Global Environment Facility Small Grants Programme (GEF-SGP) being implemented by United Nations Development Program (UNDP) for a planning grant given under the Small Grants Programme for the project entitled "Improving the sustainability and diversity of home farming activities in Enimwahn". On behalf of the United Nations Joint Presence Office, Head of Office Ms. Evelyn Adolph welcomed the members of EDA to the office. On behalf of the National Steering Committee (NSC) which administers the SGP, Chairman Snyther Biza congratulated the EDA on receiving the $4,100 planning grant, which will be used to hold community education and planning meetings that will lead the EDA to apply for a full SGP grant of up to $45,000 to implement their project. Chairman Biza explained that the SGP focuses on providing funds to community based NGOs to do projects within their communities that are focused on environmental issues. The NSC was interested in EDA's project goals because they would like to see individual communities have successful projects that can be replicated in other communities.

Mr. Patterson Shed, the SGP National Coordinator was present to witness the signing of the MOA along with EDA member and soon to be Treasurer Ms. Sabrina John, and consultant on the project, Mr. Patrick Blank. EDA now has 3 months to educate their community on the issue of climate change and biodiversity and coordinate with stakeholders in Pohnpei such as the Pohnpei State Agriculture Office, COM-Land Grant, USDA-NRCS, State Forestry, and Island Food Community of Pohnpei, to plan meetings and workshops to build up interest and participation from the EDA community in Alohkapw, Ipwitek, Kinakapw, Malewe, Elenieng, Areu and Ohwa villages in Madolenihmw municipality and then finalize their application for the full SGP grant.
The SGP is a funding modality of the GEF, approved by the GEF Council on a rolling replenishment basis and implemented by UNDP on behalf of the GEF partnership. The program is hosted by the United Nations Joint Presence Office (UN JPO) located on Kaselehlie Street in Pohnpei. For more information on the SGP, please visit their Facebook page at https://www. facebook.com/FSM-GEF-Small-Grants- Programme-850017088377426/ and their website at: https://www.sgp.undp.org.