FSM moves swiftly on Fisheries Observer assault case
Details

Category: News
Published: Thursday, 09 June 2016 09:06
Written by NORMA Press Release
Hits: 2821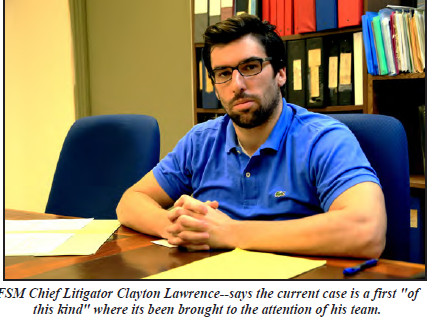 NORMA Press Release
Friday 20th May, Pohnpei, FSM--A Kiribati national working on a purse seiner in the Federated States of Micronesia could face a hefty fine and up to 12 months in jail if he's found guilty on charges of assaulting the Fisheries Observer on his vessel.
Terangutu Uerem has been stood down from the crew of the Kiribati-flagged Marawa 1, after being charged in the FSM Supreme Court with an act of criminal assault against a Solomon Islands national working for the Pacific Islands Regional Observer Program, PIRFO, on May 12.
Uerem has not yet entered a plea.

FSM Chief Litigator Clayton Lawrence says the current case is a first "of this kind where it's been brought to our attention". He says for FSM, cases of this kind usually involve alcohol and altercations between crew members.
Lawrence noted the "swift, voluntary cooperation" of the Dongwon company management contacted by the Observer on May 12, following the alleged incident. He confirmed FSM prosecutors are likely to seek the maximum penalty for this offence, being a 12 month jail term and likely fine of up to USD5000.
The vessel was recalled by Dongwon to Pohnpei after the Observer made contact, arriving in port on May 15. The Observer was checked and taken to a safe location while crew members were questioned by investigators. The court heard this week that Uerem chose not to respond to the initial questions, but a number of corroborating reports from other crew members satisfied investigators that charges could be filed and he was arrested on Monday May 16 ahead of his arraignment this court appearance on Wednesday May 19.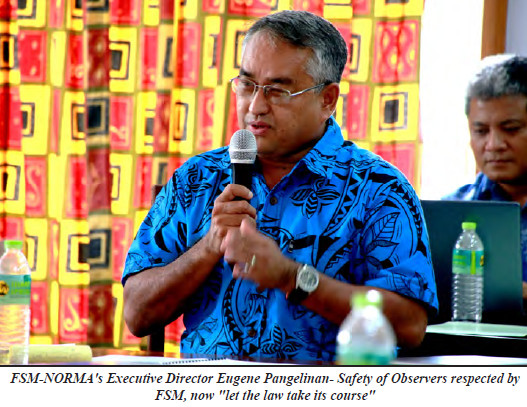 The Marawa 1 has since returned to sea with a new PIRFO Observer.
Speaking on the significance of the case, NORMA Executive Director Eugene Pangelinan says the swift action by FSM authorities once the Observer made contact with the vessel managing company "reflects the importance we attach to the role of all Observers and their vigilance on behalf of member states in reporting fishing activity on board vessels licensed to fish in Pacific waters." Mr. Pangelinan stated "observer safety is of paramount importance to us and we see this action by FSM as a reminder to all vessels licensed to fish in our waters and in other Pacific Island waters that we will take all measures to ensure their safety. We also thank the company for their cooperation in getting this case moving forward."
There are currently over 500 PIRFO Observers based on purse seiners within the WCPO region, with an estimated 30 in the FSM EEZ.
"Whatever the flag of a vessel, whether it is domestic or foreign, and regardless of ownership and nationalities of those involved, we acknowledge the solitary watchdog role of Fisheries Observers on vessels out at sea," says Pangelinan.
"Observers are the silent workforce at the heart of Monitoring, Compliance and Surveillance work and documentation of catches whose sole task is to record and report on volumes and methods by fishers licensed to work our Oceanic resources. They are required to work with integrity and must be supported in this role, especially since they do their jobs in environments where access to emergency support can be tested."
Welcoming the efficient handling of the investigation and action led by the Department of Justice, Pangelinan says "from NORMA's point of view, Observers and their families should know "when an Observer alert is sounded in our waters, FSM has no hesitation in applying the rule of law and taking Observer safety as the prime and important factor when providing resources to assist."
Pangelinan thanked the quick action of investigating and enforcement officials and similar speed of the vessel owners in voluntarily returning the vessel to port once the Observer made contact.
"Going forward, we now let the law take its course— and we thank all our maritime, justice, and other parties involved in this case."