Seven Nepalese refugees to be repatriated from Yap
Details

Category: News
Published: Tuesday, 28 June 2016 08:08
Written by Bill Jaynes
Hits: 2663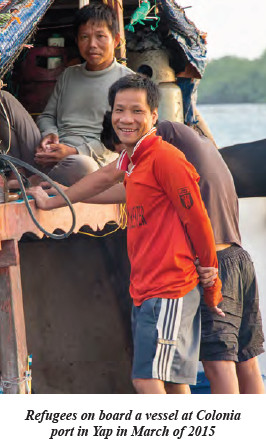 By Bill Jaynes
The Kaselehlie Press
June 9, 2016
Yap, FSM—Seven of 16 Nepalese refugees who have been stranded in Yap since their boats landed in Yap over a year and a half ago will be returning home to Nepal after their long ordeal.
In November of 2015, 16 people from Nepal and 18 people from India were detained in Yap after they were found in Yap's waters with no travel documents and in near starving condition. Their destination was not Yap. It is not clear whether their destination was Australia or the United States. They intended to seek asylum.
While they have been in Yap, community members contributed to feeding the refugees but they have been essentially in custody at the port in Colonia almost since they arrived.
Clayton Lawrence, an Assistant Attorney General from the FSM Department of Justice said that the refugees will leave from Yap on June 25. He said the government of Australia and the International Organization for Migration contributed to the repatriation.
Lawrence said that in March, he and a representative from the FSM Department of Foreign Affairs went to the Philippines to meet with the Ambassador of India and also the Second Secretary of Nepal's Embassy in the Philippines.
The process of generating travel documents takes a while but the FSM is now in possession of documents for all 16 of the Nepalese refugees but the refugee status of six of them is currently being reviewed by the UNHCR (United Nations High Commissioner for Refugees). The status of two of the Indian refugees is also being reviewed by the UNHCR.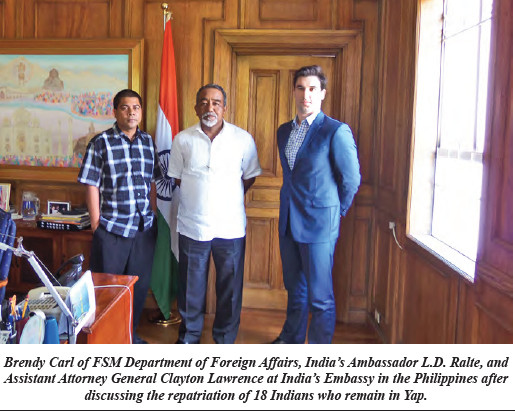 The travel documents for the refugees from India have not yet arrived.
Lawrence says that he expects that review will be completed very soon. The governments of India and of Nepal have both promised to cover the cost of repatriating their citizens.
"President Christian and Attorney General Gallen have made it a priority of this Government to reunite all these individuals with their families and friends. Collectively, for many months now, the FSM Government, Yap State officials, the Yap Community, Nepal, India, UNHCR and IOM have been diligently working on getting these people home to Nepal and India. We are very appreciative of the support extended to us by the State of Yap, the Yap Community, Nepal, India, UNHCR, and IOM. We understand, however, that this is merely the beginning-a promising one that inspires much hope and confidence- but we still have 27 individuals to go," Lawrence said in a prepared statement.