Governor Peterson and Liduduhniap Waterfall trail owners sign first Public-Private Tourism Partnership Agreement in Pohnpei History
Details

Category: News
Published: Tuesday, 28 June 2016 08:12
Written by Bill Jaynes
Hits: 2624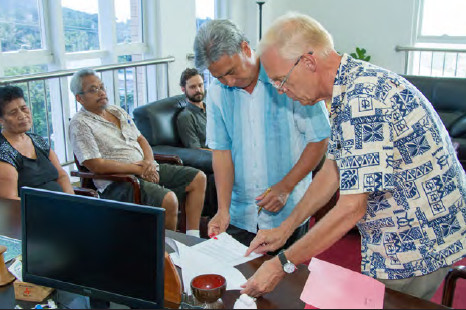 By Bill Jaynes
The Kaselehlie Press
June 9, 2016
Pohnpei, FSM—The once pristine and well kept path to Liduduhniap Falls is now overgrown and oftentimes dangerous making it nearly inaccessible to all but the heartiest of souls. But today, a historic agreement among the Pohnpei State Government's Office of Aid Coordination, Tourism and Economic Affairs and the nine owners of the trails and property surrounding Liduduhniap Falls was signed in the office of Governor Marcello Peterson.
The $75,000 agreement from the FSM Tourism Fund appropriated by the FSM Congress will mean the investment of sufficient funds from the National Tourism budget to restore safe access to the important attraction. It will also provide covered observation and picnic facilities for the enjoyment of both international and local visitors.

The one shelter that had previously been erected in the upper falls area has fallen down. On our visit there yesterday to try to take a "before" photo of the falls it wasn't safe enough for us to get close enough to even catch a glimpse of the lower falls. The overgrown trail before the slippery rock "stairs" to the bottom of the falls was treacherously close to the edge of the cliff and the vegetation on the edge of that cliff would not have been sufficient to catch a fall if a traveler stumbled in the tangled undergrowth.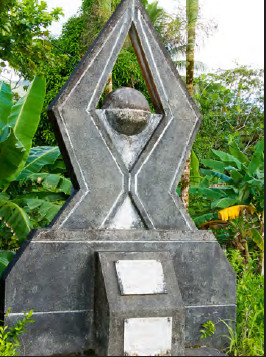 The historic agreement was signed today after seven months of patient negotiation. Work is scheduled to be completed by September 10th for a VIP tour during the Pacific Islands Forum meetings.
"This investment will add a second waterfall to the PSGs Office of Tourism's safe access waterfall tour program, going forward," said Marshall Ferrin a Peace Corps volunteer serving as external aid coordinator at the Pohnpei government.
"In addition to the presently accessible Kepirohi Falls, the PSG expects this renovation of the access to Liduduhniap will serve as a model to the creation of upgraded trails to other attractive falls, namely Lehn Pai Pohn, the Kitti Six Water Falls and the Twin Falls. The plan is to build a full week of waterfall tours, thus attracting more visitors to Pohnpei, to spend time, and money on the island, thus creating additional employment and incomes," he said.
Governor Peterson said after the ceremony that during the meeting of the Association of Pacific Island Legislators in Guam, that body resolved to pursue a cruise ship venture that has proposed to operate in the FSM. He said that a study has already been done and the venture is feasible especially if there are attractions that would be accessible. "It's totally feasible," he said with an excited twinkle in his eyes.
During the ceremony, Mason Wiley, who is the Director of the College of Micronesia's Center for Entrepreneurial Studies said that the services of a group of students who have set up a business consultancy service have been contracted to provide business support to the owners of the falls.
Ferrin said that arrangement would help to ensure that the project is sustainable long into the future.
"These new private sector work opportunities in the tourism sector represent the first of a number of steps the Pohnpei State Government is taking to replace the expected loss of jobs due to the reduction in funding from the Compact," Ferrin said. "It is planned to have the Grand Opening of the Liduduhniap Waterfall Tour, to coincide with the Pohnpei hosting of the Pacific Island Forum in September, 2016. The government expects that this opening will help to generate hundreds of thousands of dollars worth of free advertising to announce to the world, that Pohnpei is open for Pacific Eco-Tourism Adventures."