MiCare Board of Directors holds first public director's meeting in recallable history
Details

Category: News
Published: Friday, 15 July 2016 13:54
Written by Bill Jaynes
Hits: 4001
By Bill Jaynes
The Kaselehlie Press
June 21, 2016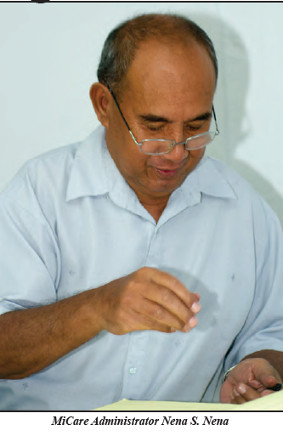 Pohnpei, FSM—Yesterday the MiCare Board of Directors attempted to hold its Board meeting but their legal counsel advised them that the law requires advertising by all available means for a session that is open to the public. MiCare staff members quickly put out an email notice that afternoon for a meeting that was to start at 8:30 on the next morning.
Merylynn Alfonso-Abello of Genesis was the only medical service provider that showed up for the meeting as did some administrators for entities that have several employees who subscribe to MiCare. There was also one gentleman who there for his own interest.
There are supposed to be seven members on the board but there are currently only five. Congress has not yet voted on the nominee for Kosrae's representative. The law also says that there is supposed to be a representative from the medical committee but that chair has never been filled.
A quorum is four members. Jesse Giltamag is Board Chair. He is the FSM National Government representative to the Board of Directors and chaired the public meeting of the Board of Directors. Dr. Elizabeth Keller is the Pohnpei representative and was present at the meeting. Marcus Samo is the Chuuk representative and was present. The Yap representative had another commitment and could not attend the meeting. Quorum was obtained with the presence of the current Executive Director of MiCare, Nena S. Nena who serves as an ex officio member.
MiCare's appointed legal representative Assistant Attorney General Craig Reffner was also present.
Chairman Giltamag did an admirable job at making members of the public who attended the meeting feel as if they belonged there even though it was the first time in recent memory that anyone could remember the MiCare board having an open session. He repeatedly used the term "YourCare" because he said that MiCare is here to serve the public.

The first order of business was to reorganize the printed agenda to include a new "miscellaneous" agenda item and to move some of the most interesting topics to the top of the agenda.
The first item was the long maligned and delayed Automated Billing System (ABS) that MiCare has been trying to roll out for quite some time. The MiCare IT director said that he had conducted training with
all but two clinics and that he expected to complete those training on the afternoon of the meeting. He said that he and his staff members have also been working with Genesis and that the Dental Clinic was up and ready to go.
Dr. Abello said that the system is not ready and it needs a dry run.
Board member Dr. Keller said that the entire process is taking too long.
"We all want to see this work," said board member Samo. "But if it's not ready then admit it and move on to the next solution."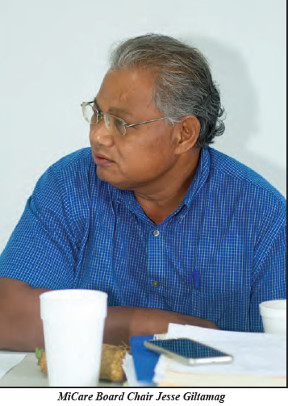 Dr. Abello said that Genesis never objected to the ABS but MiCare put out a statement to the public saying that if they didn't accept it then the MOU between MiCare and Genesis was in danger and in fact cut off patient services at Genesis beginning on June 1. She said that Genesis never had any intention not to work with MiCare and that it has been working with MiCare on the ABS since January.
She said that there needs to be some adaptability built into the system as it gets up and running and that strict time frames should not immediately be imposed. Genesis was told that if they didn't file claims within two days then claims would not be paid.
"What about after hours care, weekends, or a large flow of patients," she asked. "We just need to be sure that there will be someone to turn to while they try to what they're going to do."
Board Chair Giltamag encourage management to have an open dialog and encouraged management and staff to work closely with Genesis.
Mr. Nena said that MiCare is "listening well."
Samo reminded board members that the ABS is just a tool and that MiCare shouldn't lose sight of the main objective. He wanted to know if MiCare's stated goal to have all private clinics in Pohnpei on the ABS within two weeks was realistic.
Dr. Abello said that it had experienced numerous problems including the fact that the printer wouldn't connect with the server right past the time that the MOU expired. MiCare actually shut down its coverage for patients of Genesis from June 1 through June 6.
At some point during the meeting, Dr. Abello apparently called the Genesis IT technician to come and present the numerous problems it had encountered with the ABS including resets that wipe out all of the users' passwords. It was just one of several problems including problems with the system locking up.
The MiCare IT manager said that the problem with the system locking up is that the Internet speed isn't broad enough. "It's too slow," he said.
The ABS is only for private service providers, MiCare staff said.
The next topic involved the Memorandums of Understanding between service providers and MiCare. Mr. Nena insisted that all MOU's should be uniform.
Dr. Abello said that the problem with that is that Genesis is the only private clinic that operates on a 24 hour basis and every clinics needs are different and should be negotiated on an individual basis.
We congratulated the MiCare board on having the first public Board of Directors meeting that we had known about in over 10 years of covering the news. We mentioned that we were not included on the email list notifying "the public" of the meeting and that was disappointing.
We asked Mr. Nena if the policy of listening well was a new one for MiCare and reminded him that we had sat across the table just under a year ago to conduct an interview about shutting down services for Genesis and that at that point he had issued a "take it or leave it" MOU to Genesis. When Genesis wanted to negotiate that MOU he refused.
"After this meeting we will be negotiating and I see a very positive future for us. That's why I say, 'listening'," he said. He admitted that he had "learned a lot of lessons."
Later conversation centered on the fact that during a meeting with the FSM Chief of Staff, the Attorney General and Vice President Yosiwo George on June 6, George said that MiCare should work with Genesis and vice versa in order to re-instate member services to the Genesis facility. He also instructed MiCare to issue a public statement to rescind its previous announcement that effectively closed down MiCare services to Genesis.
No public statement was ever made by Genesis in that regard. A MiCare staff member was specifically told by the Vice President to issue the statement but that Mr. Nena stopped her from doing so because he didn't believe the Vice President had the authority to make such a directive.
Legal counsel reminded him that MiCare is a government entity and that the President and Vice President have the legal authority to issue directives.
Further discussion was held about the fact that MiCare currently has $600,000 in Accounts Receivables.
At press time, MiCare still had not issued a press release to say that Genesis and MiCare had signed an MOU to reinstate services at least until November.