Pohnpei detectives hope that new computer will speed up fingerprint record retrieval
Details

Category: News
Published: Friday, 15 July 2016 14:00
Written by Bill Jaynes
Hits: 2255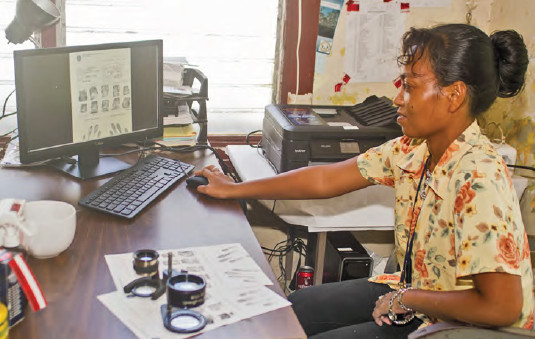 By Bill Jaynes
The Kaselehlie Press
June 21, 2016
Pohnpei, FSM—It's just a computer. There's nothing at all special about it, but its arrival today at the Pohnpei Department of Public Safety means that the State Police fingerprint specialist will be able to retrieve files much more quickly. That could mean quicker apprehension of suspects from fingerprint evidence.
Finger print specialist Olivia David said that the Pohnpei State Police Department has been collecting fingerprint data from people who have been arrested for several years. She couldn't say exactly how many fingerprint records she has on file except that there are more than 2000, perhaps significantly more. The records are all filed by the characteristics of the fingerprints such as whorls, arches, and types of loops. They are not kept by name.
David said that quite often, investigating officers come to her and ask her to pull a record by name, but since records are not kept in alphabetical order it often takes several weeks for her to find a file and pull it for the requesting officer.

With the arrival of the new computer, pulling fingerprint files will be nearly instantaneous after the significant and time consuming task of data entry is done. As of this afternoon, they had only scanned one fingerprint file as a sample and they didn't have a clear idea of how to organize them yet, but then the computer only arrived today.
The Kaselehlie Press has printed several stories about the importance of fingerprint evidence and has even warned that criminals should know that they could be caught by fingerprint evidence. That was the expectation, but court presented fingerprint evidence, at least in Pohnpei, has only resulted in the conviction of one criminal, David Laurdine. Laurdine was convicted of attacking an employee at V6AH radio station in 2011 while wearing nothing but a cloth that covered his face, "ninja style", as the victim put it at the time.
David said that was the only court presented fingerprint evidence that ended in a conviction. But other fingerprint evidence has led to the arrest of persons of interest even though that evidence was never presented in court. David said there have been many of those cases. When pressed she gave one example of a case where fingerprint evidence led to the identification of a person who had been on the premises of a burglary. The fingerprint evidence only gave evidence that the person had been on the premises and had touched items in the home. Based on that evidence, police were able to detain the suspect and to get a search warrant. In the process they found that the suspect was in possession of several items that had been reported as missing from the home where the crime had been committed. The fingerprint evidence was not used in court but it led to the discovery of stolen items which was enough to convict the perpetrator.
Police said that one of the reasons that fingerprint evidence had not been presented often in court cases is because some of the former prosecutors at the Attorney General's office were not familiar with how to present that evidence in the court. But one of the prosecutors currently working for the AG's office formerly worked as Pohnpei's fingerprint expert, and police believe that experience will help to change the former aversion to using that type of evidence in court.
By the time the quarter million dollar Australian funded fingerprint lab opened in 2012 at the office of the National Police in Palikir, Pohnpei, law enforcement officials had already shared the fingerprint files they had collected up until that time with the National Government for entry into the Pacific Automated Fingerprint Identification System. The idea was to make it easier to locate potential subjects from fingerprint evidence at crime scenes.
Unfortunately, a former Director of the Department of Public Safety curtailed any fingerprint sharing cooperation with the National Government fingerprint lab and forbade the transmission of Pohnpei's fingerprint files to the new lab. There are currently several hundred fingerprint files sitting on a shelf that need to be transmitted to the PAFIS system, which is now being allowed again under new administration.
Kasner Aldens, who runs the high tech finger print lab at the office of the National Police in Palikir said that Pohnpei State Police have had a good working relationship with the National police. Officer David was one of the original highly trained technicians at that lab and worked with Aldens.
David said that she quite often uses the fingerprint lab in Palikir and has found it to be very helpful.
Captain Hermis Edmund, head of detectives with the Pohnpei State Police Department said they haven't yet landed on a good organizational system to help to organize the fingerprint files in the computer they got today. He said that he would welcome input from people in the community with expertise in organizing data for efficient use. David mentioned the possibility of using MS-Excel to organize the files. Excel is a spreadsheet software program that is especially good at handling mathematical calculations. Though it can be used as a type of "flat list database", that isn't its true forte. Microsoft Office does have a program that is particularly good at handling databases, even very complex ones, but it tends to be the least often used program of MS-Office users.
They also said that they are also looking for ideas for software and organization systems that can perform facial recognition to help them with their "mug shot" filing system.
Captain Edmund said that the money for the computer they received today came from their local budget.