Japan funds Supporting Center for Persons with Disabilities in Pohnpei
Details

Category: News
Published: Friday, 15 July 2016 14:05
Written by Bill Jaynes
Hits: 2049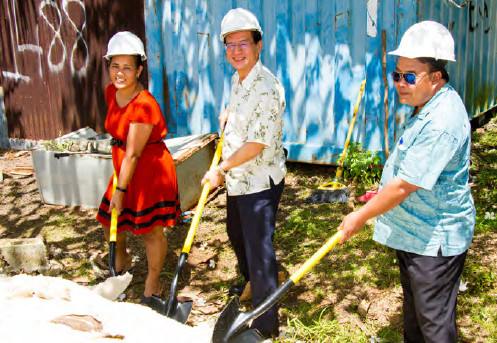 By Bill Jaynes
The Kaselehlie Press
June 17, 2016
Pohnpei, FSM—This morning Japan's new Ambassador to the FSM, Mr. Ryoichi Horie joined Pohnpei State Officials to break ground for a new Supporting Center for Persons with Disabilities. Japan provided a grant in the amount of $109,105 for the center under its Grass-roots Human Security Projects funding from the Embassy of Japan to the FSM.
The funding will be used for the construction of the building over the next 8 to 10 months and also for one audit.
The new facility will be next door to the Pohnpei State Education building.
Acting Governor Lt. Governor Reed Oliver represented the Pohnpei State government and with good humor thanked the government of Japan for their generous donation for the facility.
Ambassador Horie followed suit with equally good humor as he spoke to the small crowd gathered on the premises. He provided a bit of his background saying that he had just served in Sudan, Africa where the temperatures rose to 50 degrees centigrade (122 degrees Fahrenheit). He has only been on island since June 10 and has found Pohnpei to be wet.

He said that he was proud that the ground breaking for the facility was his first official act on behalf of the government of Japan since he presented his credentials to the FSM the day before. He said that Japan felt strongly enough that the program would be successful for people with what are called "disabilities", that they were able to fund it. He looked forward to the opening of the facility and promised that he would be there for that occasion and that he hoped that the facility would do all that it was designed to do.
Though Nelbert Perez of the Pohnpei Consumer Organization also followed suit with a sense of humor, he made some very serious points on behalf of people who live with disabilities in Pohnpei. "5,000 people in Pohnpei live with what is classified as a "disability" but Pohnpei has not done nearly enough for those people...There isn't a single Braille text book in Pohnpei," he said. "People with disabilities still can't access public buildings."
He said that the center that will help to train people with what are considered to be "disabilities" to utilize the strengths they do have. "If they can work as a restaurant worker, we'll train them to do that. If it's something else, we'll help them with that," he exclaimed.
"The building will serve as a landmark to the abilities of disabled people."
Along the way he mentioned that he has an artificial leg that many people don't know about but that has helped him to understand the plight of citizens with disabilities.
He said that people with what are considered to be disabilities have rights just like any other citizen. They have rights to live a full life with access to services and abilities to make a living that any other citizen of the FSM has and that no one should look down upon them.
"That," he said, "is the purpose of the new building.
After his enlightening speech that should have been heard by all in Pohnpei, dignitaries symbolically broke ground for the new project.