China provides solar lighting equipment to Pohnpei municipalities
Details

Category: News
Published: Friday, 15 July 2016 14:22
Written by Bill Jaynes
Hits: 1340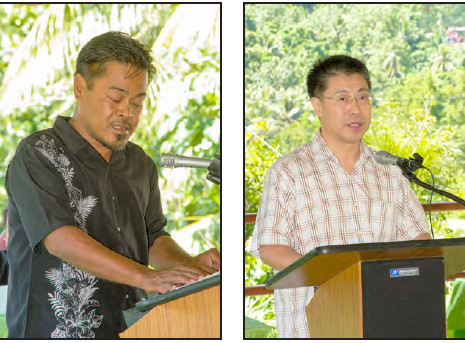 By Bill Jaynes
The Kaselehlie Press
June 15, 2016
Sohehs, Pohnpei, FSM—This morning, the Embassy of the People's Republic of China turned over solar lighting equipment to four of Pohnpei's municipalities.
Representatives of Kitti, U, Nett, and Sokehs were on hand to receive the donations of solar lighting equipment. Chinese Ambassador Li said that the Embassy of the People's Republic of China had incorporated the handover of solar lighting equipment into their presentation of a garbage truck to Madolenihmw.
Sokehs Speaker Baldesar Sardis gave welcoming remarks thanking the Embassy for their kind donation and for the upcoming donation of a solar power generator.
Ambassador Li Jie presented a history of the relationship between the People's Republic of China and the FSM that included support of the municipalities in Pohnpei.
Mr. Samuel Rettin, Acting Chief Magistrate of the Sokehs Municipality gave closing remarks. He noted that this point forward, the Sokehs Municipal Government complex will be able to turn off its lights at night because of the new solar powered street light. That will save the government sorely needed money.
Although the ceremony took place at the Sokehs Muncipal government, Joab Paul of Kitti, Dahker Abraham of U, and Peteriko Hairens of Nett were at the ceremony to personally receive the donations for their municipalities.
After the ceremony closed, Sokehs maintenance workers erected the solar powered street light that will light the Sokehs Municipal government complex while participants in the ceremony watched. Each of the municipalities now has a solar street light donated by the Embassy of the People's Republic of China.