IFCP presented 'Lets Go Local" For CHEEF at Peace Corps Summer Camps
Details

Category: News
Published: Friday, 15 July 2016 14:26
Written by Emihner Johnson
Hits: 1518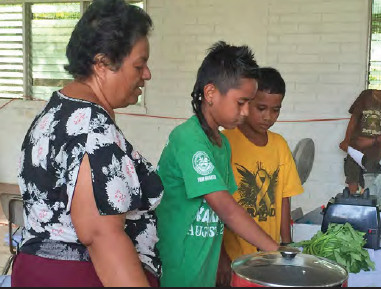 BY: Emihner Johnson/Acting Executive Director, IFCP - JUNE 2016
Island Food Community of Pohnpei (IFCP) was invited to participate in PeaceCorp Program Summer Camps, namely Camp Glow(the girls cam) and Boyz 2 Men(boys camp). These camps were organized by Peace Corp Volunteers in partnership with IFCP, the participating elementary schools, and other organizations.
The Camp Glow two-day camp was held on May 22-23. 2016. A total of fifty one (51) eight-graders participated in the camp activities. There were seven teen(17) girls from Pohnlangas School, eight (8) girls from Enpein, eighteen(18) girls from Seinwar , and eight (8) girls from Pehleng Elementary School. Mona Tara, Office Manager of IFCP presents 'Lets Go Local" for CHEEF(Culture, Health, Environment, Economy, Food Security) and also demonstrated making Karat Smoothies and Kang kong Salad to the Camp Glow participants as well as the accompanying PeaceCorps Volunteers and elementary school staff. Accompanying IFCP to the Camp Glow were volunteers Ms. Relynn Ludwig and Mr. AJ Tara.
On May 27-28, 2016, like Camp Glow, the Boyz 2 Men held their camp at PATS. Presenting the "Let's Go Local" for CHEEF was Emihner Johnson, Acting Executive Director, IFCP. The food processing demonstration was presented by Ms. Mona Tara, Office Manager of IFCP. Also present at the Boyz 2 Men Camp was Ms. Alice Ehmes, Volunteer , IFCP. A total of fourty- eight (48) boys from Seinwar, Pohnlangas, Enipein, and Pehleng attended the Boyz 2 Men Camp.
IFCP would like to thank DOI(Department of Interior), TAP (Technical Assistance Program)Grant, Senator David Panuelo for funding. A special Kalangan Lap to Ms. Ludwig and Ms. Ehmes for their volunteering services to IFCP,, and Mr. Tara his assistance.