Opinion Editorial: Asia's taste for sea cucumbers roils South Pacific
Details

Category: Opinion
Published: Friday, 15 July 2016 14:45
Written by MICHAEL FIELD
Hits: 5737
MICHAEL FIELD, Contributing writer
Nikkei Asian Review
(reprinted with permission)
May 25, 2016
AUCKLAND, New Zealand -- A race to harvest one of the world's oddest looking marine delicacies is causing concern about environmental damage inflicted in the South Pacific.
Soaring demand for the sea cucumber, a seabed dwelling invertebrate also known as beche-de-mer and trepang, is driving record prices in China's luxury food market. One species, the Pacific sandfish, was selling recently in Hong Kong for $1,668 a kilo, while the Japanese spiky sea cucumber can go for $2,950 a kilo. Other species sell for between $15 and $385 a kilo, depending on size and condition.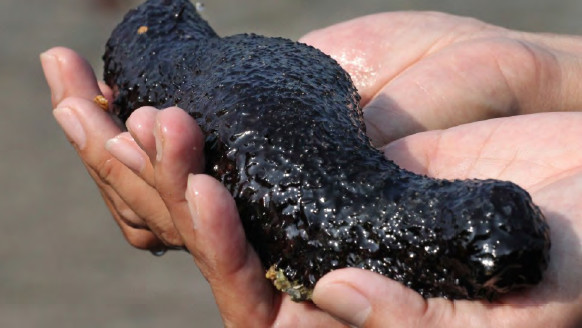 Harvesting these lucrative but unappealing animals is becoming more difficult as stocks decline, prompting claims that overfishing is causing environmental damage and that divers' lives are being put at risk. A controversial commercial contract with a Chinese company recently sparked protests on Pohnpei, part of the usually sleepy Federated States of Micronesia.
Steven Purcell, a sea cucumber expert at Australia's Southern Cross University, said Pacific stocks had "all declined considerably" over a decade. Purcell and six other scientists said in a recent article in the academic journal Fish and Fisheries that sea cucumber stocks may have "succumbed to pandemic overfishing."
There are around 1,700 species of sea cucumber, of which 66 are used for food. Boiled and dried, the animal becomes known by its French name, beche-de-mer -- a dish rich in protein, minerals and fatty acids. In China the animal is a traditional remedy for hypertension, asthma, rheumatism, cuts and burns, impotence and constipation.
The South Pacific Community, a New Caledonia-based grouping of 22 nations and territories, said in a recent study that sea cucumber exploitation had been worth more than $36 million to the region in good years, but only a fraction of that sum in poor years.
The SPC said that market demand now exceeded global supply, leading to rising prices. But it noted that "the lure of easy money and market forces are encouraging poor practices and mismanagement."
In Micronesia the Kaselehlie Press reported on May 13 that the government had given Young Sun International Trading, a Chinese company, the right to take 67 tons of sea cucumbers from the country's territorial waters.
Menin Katengsed of the Pohnpei Marine Management Advisory Council, a nongovernmental organization, said in a letter to the newspaper that Young Sun would make almost $9.5 million in sales income from the deal, while fishers would get around $1 million. "The only winner in this whole deal is the Chinese company," he wrote.
The Nature Conservancy, a U.S.- based conservation organization, said it feared that Pohnpei's "one-time go for broke" operation could change the health of the local waters forever. "This one act will single-handedly decimate the sea cucumber resource of an island by a company who will earn millions of dollars in profit, leaving virtually no benefits to the island and its communities," said Ricky Carl, a Nature Conservancy official.
The Nature Conservancy said sea cucumbers were important for the health of lagoons, which they help to clean. It said Tony deBrum, a former foreign minister of the Marshall Islands had reported a notable increase in algae at one atoll where sea cucumber harvesting had been allowed.
"During low tide, there is an unusual smell from the reef, but most disturbing, children cannot swim in the sea because they get an itchy rash," deBrum was quoted as saying by Nature Conservancy.
Several South Pacific countries have closed sea cucumber fisheries to protect stocks in recent years, including Papua New Guinea and Tonga. Vanuatu imposed a ban, but lifted it in 2015 to allow islands affected by Cyclone Pam to make some money.
Outrage in Hawaii
In Hawaii, there was social media outrage last year following reports that truckloads of sea cucumbers were being hauled off beaches on the islands of Maui and Oahu. David Ige, the state governor, banned any further large-scale commercial harvesting of sea cucumbers.
In Australia, the state of Queensland's sea cucumber fishery was closed nearly 30 years ago, although Vietnamese and Indonesian fishers have since been caught poaching there.
Fiji, which has been exporting sea cucumbers since 1820, maintains a thriving export trade, mostly to Hong Kong. Xiao Zhang Du, managing director of Great North Seafood, a Fiji-registered company, told the Fiji Times in 2015 that he had sent $4 million worth of sea cucumbers to Hong Kong during the year and was seeking to increase exports.
"This is to prepare us to meet the increasing demand. We are still in discussion with companies in China," he said.
Many of the sea cucumbers that end up on tables in Asia and Europe are caught by relatively poor rural residents of South Pacific island states -- picked off the ocean floor by divers who are said to be taking greater risks as stocks diminish.
In March, a 45-year-old diver was decapitated by a shark off the southern coast of Fiji's Vanua Levu island. However, the biggest problems relate to the use of air lines providing compressed air from the surface. The SPC says these lines, also known as "hookahs" put villagers at "considerable personal risk of the bends [decompression sickness] or death."
There are no comprehensive records of diving deaths related to sea cucumber fishing in the region, but anecdotal reports suggests that the rate may be above 100 a year. One recent newspaper report pointed to 12 deaths in a single district last year.
Purcell said the use of under water gear was unregulated, with no limit on the species caught or the depth of fishing, which is conducted at a wide range of depths down to 50 meters. Scuba divers and breath-holding "free" divers are also involved.
"The high incidence of diving-related accidents in recent times indicates that stocks are being depleted in shallower areas, forcing divers to go deeper and to increase the number of dives per day," Purcell said.
A veteran Fiji scuba expert said he had seen many people paralyzed by the bends since the latest sea cucumber boom started. "We saw lots of people get bends from the outer islands and remote villages," said the diver, who asked not to be named.
He added that Chinese buyers were providing villagers with boats, outboard motors and hookah compressors, the cost of which had to be repaid over three to four years, and warned that regulating the industry would not make much difference because of the difficulty of enforcement.
"Our navy can't even afford the diesel to put into the navy boats. I don't know how they are going to control sea cucumber diving," he said.
Some regional governments have accepted that the sea cucumber industry presents a growing problem. Tonga's Fisheries Minister Semisi Fakahau called in October for "brutally honest discussions about the hard but necessary solutions which we need to collectively identify and implement." No further action has been taken so far , however.