Chuukese families celebrate new homes after Maysak
Details

Category: News
Published: Friday, 15 July 2016 14:53
Written by Rachel Weinheimer
Hits: 2197
By Rachel Weinheimer,
International Organization for Migration
June 23, 2016
Chuuk, FSM—In April of 2015, Typhoon Maysak hit the FSM, with devastating effects in both Chuuk and Yap. While the emergency relief phase is over, many families are still enduring Maysak's aftermath - hundreds lost their homes and all their belongings to the powerful storm.
During the week of 13 June 2016, under a USAID initiative, and in partnership with the International Organization for Migration (IOM), the first families in Chuuk received new homes designed to replace those lost during Maysak. One of the first was the Jacobus family in the village of Mechitiw on Weno, Chuuk.
The Jacobus family took shelter in a concrete building in their village during Typhoon Maysak. After the storm, they returned to their home only to find it reduced to its foundation, their belongings either swept away by the storm or ruined.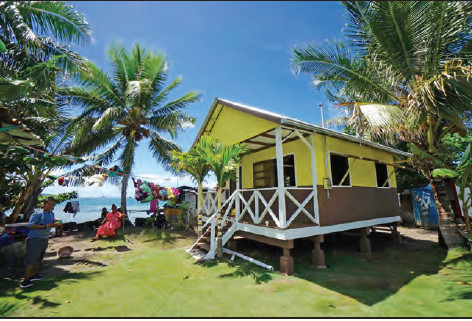 Sulita Hoream, who is a neighbor to the Jacobus family, explained: "We were scared during the storm. Only buildings made of concrete were left afterwards. People no longer had houses. (Since Maysak), three families are staying with us."

Approximately 330 new houses will be built in Chuuk to replace those destroyed by Maysak. These houses are being built by members of the Chuukese community under the guidance of engineers from USAID and IOM. The community workers have been trained in reconstruction techniques in order to promote long-term disaster resilience and community empowerment.
"The engineers came every day to check on the workers...it's good the Chuukese came. The Chuukese man who worked on our house is a good carpenter. Now he is building another house," states Hoream.
The new homes were designed to take into account cultural as well as practical considerations; they are equipped with a water catchment system, wired for electricity, and built to withstand winds of 95 mph. Disabled beneficiaries are eligible for special considerations, ensuring that their new houses are designed to fit their needs.
In addition to their new home, the family was also eligible to receive a voucher in order to replace household items lost during the storm.
Hoream: "With the voucher, my family bought a washing machine, storage containers, dishes, and food."
The Typhoon Maysak Reconstruction Project is a multi-sectoral initiative designed to help Maysak-affected communities in the FSM rebuild following the devastating storm and help restore critical public infrastructure and utilities, rebuild homes, and strengthen communities. In response to Typhoon Maysak, the US Government is expected to provide more than $45 million in humanitarian assistance to the FSM in the form of agricultural assistance, logistics support and relief commodities, shelter coordination, and reconstruction efforts